PSN Tuesday – August 10, Scott Pilgrim vs My Free Time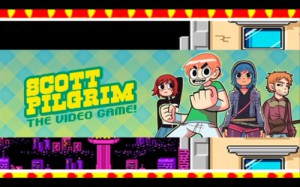 Some football something or other came out today. I couldn't care less. I'm currently listening to the Scott Pilgrim soundtrack while watching Scott Pilgrim the Game download. Available now for $9.99, Scott Pilgrim is a River City Ransom-style 2D sidescrolling brawler. With 4-player local co-op allowing you to play as Scott, Ramona, Kim, or Steven, the only negative that can be said is that there is no online multiplayer. It's a minor gripe. The soundtrack for the game has been put together by chiptune masters Anamanaguchi, and the visuals were designed by legendary sprite artist Paul Roberston. Scott Pilgrim the Game is exclusive to the PS3 for two weeks, after which it will be released on the 360. Go forth and buy, I'll only say it once before we have a problem.
As they said last week, Playstation Plus members have a fresh batch of content awaiting them, a combination of new offerings and discounts on previously available downloads. The August Episode of Qore is here, free for Plus members or $2.99 on its own. This episode features Kane and Lynch 2, Splatterhouse, TerRover, and an exploration of Kyoto, Japan. As was previously mentioned, a full-game trial for Red Faction Guerrilla is exclusive to Plus members, and the entire game is available to everyone for $19.99. The other big news for Plus members is early access to PixelJunk Racers 2nd Lap, a free add-on for owners of the original Racers while costing new buyers a discounted $5.24 for the whole package. I never understood the appeal of the first game, being the only PixelJunk title so far that I haven't bought, and this update looks to be more of the same.
The only other noteworthy content in this update is a demo for the PSP. Valkyria Chronicles was a fantastic, under-appreciated PS3 strategy RPG. Following a trend that many Japanese games do these days, the sequel is exclusively for the more portable variety of Playstation. Fans of the original should be right at home, as the combat system hasn't changed and the visuals are as close as they can be on the PSP. The biggest upgrade for this sequel is the addition of various multiplayer modes, both co-op and competitive. The Valkyria Chronicles 2 demo weighs in at only 78 MB, leaving little excuse to not give it a try for free.
The full list of content can be found at the Sony Playstation.Blog. What do you think, faithful readers? Planning on buying anything other than Scott Pilgrim?