Musical Taste: Scott Pilgrim vs the World OST Review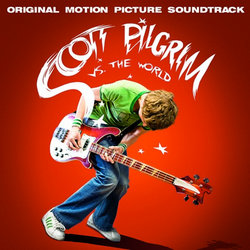 Scott Pilgrim vs the World Original Soundtrack

Reviewing a soundtrack is tough, particularly if you haven't seen the movie yet. You have a collection of tracks that, if you're not listening to a musical, don't seem to mesh initially. However, Edgar Wright, Beck, and Nigel Godrich have put together a damn fine collection of tunes for Scott Pilgrim vs the World.
There's quite a bit of background to this album. Starting right off the bat, what should Scott's band Sex Bob-Omb sound like? Well, that's where Beck came in. He sat down and wrote some messy, loud, and decidedly radical garage-band sounding tracks, which work while still keeping the "crappiness" of Scott's band. The highlight of these for me, out of a strong showing, is "Garbage Truck", which takes us to a (hopefully) hypothetical world where garbagemen are taking their dates to the dump, and also features the word truck as a hilarious exclamation of love. The songs are all sung by the cast, which means their performance on the screen should be pitch perfect.
If you're at all familiar with the comics, you're aware that there are other bands in the Toronto that Scott inhabits. One of these, Crash & the Boys, is brought to life by Broken Social Scene in epic-Napalm Death-inspired punk tunes, less than a minute in length and brimming with energy. This is most jarring when you listen to the chill BSS song also included, "Anthems for a 17-year old girl", with its soft lyrics and quiet intensity.
The other band that Scott encounters, The Clash at Demonhead, have music provided by Metric. There's a new recording of the b-side "Black Sheep" which is, in a word, awesome. The song, which will be sung by the cast in the film, has a pyrotechnic-crazy-stage-show feel to it, which is in going with the band that sings it, led by Scott's ex, Envy. Listening to it, I could see the theatrical-introduction to The Clash at Demonhead from the end of volume 2.
The album does have some tracks you may wind up skipping, but for the most part it's true originals and stuff you're unlikely to hear on any other soundtrack.  Beck turns up for two different versions of original song "Ramona", presumably based on the one word song that Scott writes for Ramona. One is pure acoustic, while the other brings in an angelic electronic arrangement and a slower beat with Beck barely breathing the vocals.
Overall, we're looking at one of the most eclectic soundtrack packages in a while. We get new Beck, chiptunes, hard and fast punk, and a few classics thrown in for good measure. Bryan Lee O'Malley's playlists from the graphic novels also contribute, with the Plumtree track "Scott Pilgrim" in a place of honor, deservedly so for inspiring all of this radness.
Scott Pilgrim vs the World: The Original Soundtrack is in stores and online August 10th. Also available only digitally is the original Score by Nigel Godrich.