The Wibbly-Wobbly Timey-Wimey Watchlist: "The Deep"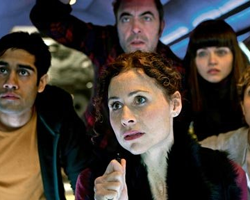 Oh, that's where Minnie Driver's gone.
After the unfortunate cancellation of the US series "The Riches," she appeared to have disappeared off the fandom radar for a while.  But she's back again, accompanied by James Nesbitt ("Jekyll") in the new BBC One series "The Deep."  The thriller chronicles the journey of a an oceanographic submarine crew.  The plan is to hunt for another sub, missing thousands of feet below the Arctic ice.  This, of course, can only go well.  And by well, I mean they find themselves stranded without power or communication to the surface within the first episode.
Oh, and not much oxygen, either.
Simon Donald (one of the writers behind the 2005 series "Murphy's Law," also starring Nesbitt) penned the five-episode serial, which began airing last night.  The Beeb is feeling good about the production so far and its "international cast," with Controller of BBC drama commissioning Ben Stephenson calling the show "brilliantly imagined."  The talent behind it certainly looks encouraging enough, though how the series will survive its cramped quarters has yet to be seen.
We know, though, that with more and more American imports airing on their various channels, the Beeb has to get clever with their programming.  "The Deep" may be free and clear, though, as there doesn't seem to be any direct competition genre-wise at this point in time.  Let's hope that this show fares as well as Nesbitt's previous TV outings, and better than Driver's.
"The Deep" airs Tuesday nights at 9 PM on BBC One and BBC HD.  Whether or not the show will proceed to a second season will be mostly reliable on how long the main cast can hold their breath.