PSN Tuesday – August 3, Launch a Sodding Cow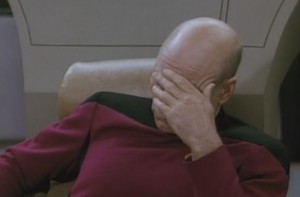 So this is what happens when I get excited for something. Instead of the big monthly updates to Playstation Plus content that were promised, Sony has switched to a bi-weekly system. I can't help but feel like they're caving in to people who were crying for more Plus content every week because they don't understand the term "monthly". The main downside to this is that the PSN Plus update that was supposed to drop tonight is now coming next week. They were nice enough to give a preview of what we can have next week, though. The new upcoming full-game trial is Red Faction Guerrilla, a game that's over a year old and was available for $5 during the Steam Summer Sale. It's incredibly fun, though, if you haven't played it.
As for the actual content delivered this week, there's just not much that's noteworthy. A demo for Modern Warfare 2? Really? A mere 9 months after the top selling game of 2009 was released, those on the fence can finally try before they buy.
There is good news here, I swear. Despite it being two months after the XBox Live release, Earthworm Jim HD is still something to get excited for. Upscaled graphics and a remastered soundtrack were enough to justify my purchase, but 4-player co-op is the big selling point here for people who loved and played the hell out of the original. There is a demo available if a 2D side-scrolling platformer with a ray gun hasn't sold you yet. You, too, can launch a cow. Earthworm Jim HD can be yours for only $9.99.
Equal parts frustrating and awesome are the DLC add-ons for BlazBlue Continuum Shift. There are 24 new items on the store, but only seven of them are actually new. The 17 questionable items are "Unlimited" versions of each character, which are unlockable just by beating arcade mode. The biggest addition is new character Makoto. She is a squirrel girl, and is awesome. She is also the most expensive content at $7.99. Three sets of additional colors are available as well for $4.99 each. Most of these are the same colors for different characters, but some of them are special outfits based on popular characters, such as Hazama as The Joker or Ragna as Gintoki (from Gintama). The remaining three items are new menu voices by voice actors from various characters.
So that's really it for the network this week. Today marks the release of KICK-ASS on Blu-Ray and I recommend acquiring it. I'm going to go watch it now. We can pretend we're watching it together. It'll be special, you'll see.