Comic Non-Sans: @Tavicat and Print-to-Web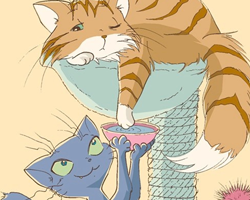 Even within the course of my columns and news-pieces here, I've talked a fair bit about web-to-print.  Among many of us, it's become the big goal: take our work from the web to dead-tree comics.  Whether it's a feeling of legitimacy, professionalism, or just a desire to try and eke out a piece of a living, we've all looked at — and occasionally achieved — a print alternative.
One pair I began following in their print run many years ago was the husband-and-wife team of Rikki Simons and Tavisha Wolfgarth-Simons.  You may know Rikki best as the voice of GIR from "Invader Zim," but he began as a background artist for said show.  With Rikki on backgrounds and Tavi doing character design, the two published multiple volumes of the OEL graphic novels Reality Check! and Shutterbox. So once I found myself scrambling for more to buy, I was surprised to see that their big new project has moved in the opposite direction to what we might expect: from print to web.
@Tavicat is its name, and it's the fictionalized story of the couple's two real-world cats, Pippi and Fargo.  But compared to other pet-centric comics (both web and print), this is far more whimsical, with humor that is decidedly non sequitur and and bordering occasionally on the surreal.  Because the two protagonists aren't cynical observers of the human world so much as self-centric cultists — yes, they have been known to summon elder gods — who play games of make-believe that would make even the most imaginative of toddlers do a double-take.
The last thing I am (or will likely ever be) is a cat owner, but I spend a fair bit of my waking time with people who are and thus shrug off any "you don't like it because you just aren't a cat person" criticisms when I reveal that I have a difficult time with other such strips in the sub-genre.  It isn't so much a matter of association or familiarity as it is with everything being a bit … well … samey.  You can't get two pages into a newspaper or click-trance (a stolen @Tavicat term, itself) without finding a funny about cats who are cleverer than their owners, or one cat who is and one cat who isn't, or a cat who is and a dog who isn't.  Truth?  Perhaps.  But old, regularly-addressed truth.
Whereas @Tavicat is fresh.  Rather than the stereotypical "cats and their pet humans" gag, it peers more into the area of "cats and their … wait, what are they even doing right now?"  That is, the confusing and whimsical side of the critters that occasionally endears them even to a dog-person like yours truly.  You don't have to be an owner to "get it."  And Rikki and Tavi's combined art style — cute with an edge of Zim-y oddness that complements the subject matter perfectly — is eye-catching and appealing without being greeting-card cutesy.
For those of us who started out with their print work, @Tavicat is almost reminiscent of Reality Check! in its style and tone, but with a lightness to it that lends itself to casual online reading.  And it exudes a feel of "just for fun" from a pair of very talented writers and artists who have done well enough in their time to give a little something free to their fans — an unexpected inverse move that makes one step back and rethink where assumed value in different media distribution lies.
@Tavicat updates every Tuesday and Thursday, but is perfect for saving up and reading all at one go every few weeks.