Fresh TV Meat: "Covert Affairs" and "RuPaul's Drag U"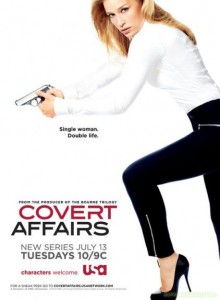 "Covert Affair" had two things going for it even before I watched it: Piper Perabo, star "Coyote Ugly – of one of the movies a girl will stop and watch the rest of the way no matter what she is in the middle of doing and Christopher Gorham, whose credentials I really don't know much about other than "he's fucking hot". So, I was in for the pilot.

Boasting that it is from the producer of the Bourne trilogy, "Covert Affair" moves quickly to establish how awesome Piper Perabo (and her character, Annie Walker) is – something that should have been done in the early aughts (seriously, "Coyote Ugly" was that meaningful to me). She's hot, she's feisty, she's broken hearted and she wants to work for the CIA. Her chance comes when it is noticed she is a hot piece of ass and the CIA is looking for just that.
Also established early is that Christopher Gorham's character Augie Anderson is not only blind, but blindingly hot. Given the trait of being able how to tell how hot the women are around him to make him as much of a dog as any other hot blooded male doesn't make the swooning stop. Let's face facts – Christopher Gorham could paint a Hitler moustache on a baby and fart on the Mona Lisa at the same time and all you could probably think is, "He likes art and babies – I like art and babies, too!" He's hot.

(Actually, I lied. There is one scene in the pilot where Piper Perabo's character is said to be wearing Louboutin heels and Gorham's character soon after refers to them as kitten heels. Not only do we see the said exquisite pair of black pumps, but without looking, I knew that there would be no way that Louboutin would make kitten heels and that they would be shown on the same network that brought us "Silk Stalkings".)
There's one last treat in "Covert Affair":


Eyebrows, dolls. Mr. Eyebrows.
Now, it's hard to imagine that I could find anything wrong with "RuPaul's Drag U". Let's take a look at a screen shot of the opening credits: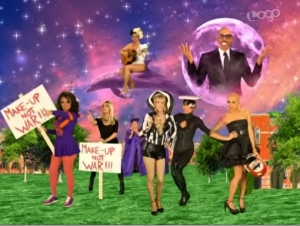 Everything is right in the world and not only can Shannel juggle, she can ride a dolphin and play a guitar. Of course.
What's really hard to imagine is something that would make me love "RuPaul's Drag U" more. I mean, it would take something so magical and mythical that it could only be…
UNICORNS.

SOLD.