Guillermo del Toro finally pounding the first piton into At the Mountains of Madness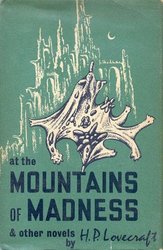 Forgive me if I'm hyperventilating a little.
In an exclusive over at Deadline, it looks like Guillermo del Toro will finally pull HP Lovecraft Adaptation At the Mountains of Madness out of development hell. The film, based on the novella of the same name, has had a years long development, in part because de Toro refused to add a love interest or happy ending because "neither are possible in an HP Lovecraft story."
Now on board the project is James Cameron as producer. This is a bit of a surprise, as Cameron doesn't often give projects his approval, but the exception he made for del Toro is proving serendipitous. The project will go into pre-production within the month with an eye to shoot next summer.
For those unfamiliar with the story, it tells the tale of a Miskatonic University expedition to Antarctica, their discovery of some very strange things, and what happens when those things wake up. Take an hour and go read it.
The film will be released in 3D (of course) but for once I'm actually excited about that. It might be worth it to see a Shoggoth boil directly at my face.
Tekeli-li! Tekeli-li!