The Wibbly-Wobbly Timey-Wimey Watchlist: "The First Men in the Moon"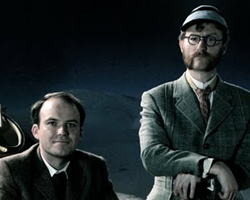 It was one small step for [a] man, and one giant leap for mankind.  But it was sixty years too late.  Or at least that's what Mark Gatiss is saying.  His adaptation of an HG Wells classic gets a rooting in the real world, as a young boy waiting for the Apollo 11 astronauts to land is told by ancient explorer Julius Bedford that he and a friend beat his modern-day counterparts by more than half a decade.
That's how Gatiss's new adaptation of the 1901 Wells classic The First Men in the Moon will be kicking off.  Rory Kinnear (most recently of "Lennon Naked") plays Bedford, who meets up with one Professor Cavor (Gatiss pulling double duty) in the year 1909.  Together, the two build a space capsule that operates under the influence of mysterious and wondrous Getter Rays Cavorite, in which they intend to set off for the moon.  But what awaits them upon arrival?
Expect to find out, as you've learned if you're a regular Wibbly-Watchlist reader, "soon."  This fourth adaptation of the original novel will be hitting the airwaves before much longer, as evidenced by the release of a brand-spanking-new trailer.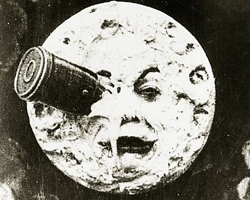 Prior to this remake, three others were made: the 1902 A Trip to the Moon (featuring the creepily iconic image at left), a 1919 silent film, and a 1964 Harryhausen flick starring Lionel Jeffries.  Gatiss is known for his crazy rewrites of Victorian classics, as seen in this past Sunday's "Sherlock."  How will this newest version fare?  This definitely falls under the "awesome or awful" heading, and I know we all will be hoping for the former.
"The First Men in the Moon" airs soon on BBC Four.  If we discover that the moon is in fact a giant robot just waiting to be started up by a hot-blooded pilot with a core drill, my life will be complete.