House vs. Black Jack … Heaven or Hell … FIGHT!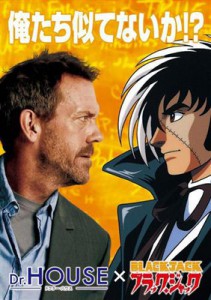 In the grand tradition of epic Japanese TV crossovers, Geneon Universal is pitting two of the world's most brilliant doctors against each other in an upcoming ad campaign.  For the first time ever, one of anime legend Osamu Tezuka's anime creations will be facing off against an overseas live-action character … and forget my "awesome or awful" tag, because this is automatically fantastic.
According to Anime News Network, Geneon Universal — the Japanese DVD distributor for the show known over there as "Dr. House" — pitched the idea for the face-off to Tezuka Productions, who (quite rightly) were crazy about it.  The Taiketsu, or "Showdown," ad coincides with the fourth season DVD rental release of "House" this summer, and will feature the dub voice actors for both shows.  The commercial will begin airing on August 4, featuring the two doctors battling to see who is the bigger genius.  A pretty even match, to be sure.
Those of us itching for a look at the ad ourselves can take heart: the official Japanese "House" website will feature the commercial, and there will be a magazine print run likely akin to the image at right.  What will happen?  Insert lupus joke here.
Edited for best response: "Can Franken Fran be the referee?"