PSN Tuesday – July 27, Wings of Liberty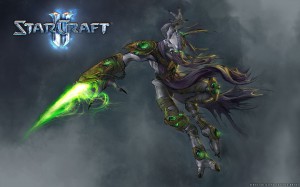 Starcraft 2 doesn't have anything to do with the PSN, but that doesn't change the fact that ignoring Blizzard's newest game is doing yourself a disservice. From the moment the opening cinematic starts, this game is epic. I've been playing since the first day of Beta testing, and I tore into my Collector's Edition the moment I came home today.
As for the ever-faithful PSN, there is a decent amount of content to be had this week. PSN Plus members who complained about a lack of content can shove it, as there are three excellent games made free with this update. Yes, these are games that were previously available, but each is worth checking out. As a big fan of puzzle games, Critter Crunch was a day-one purchase for me. This gorgeous game has you matching and eating bugs until you get so full you vomit delicious rainbows directly into your child's mouth. Not kidding. It's magical. Stealth-action title Syphon Filter is the second free game, and yes, this is the second time Sony is offering the PS1 Classic for free. It was previously given away with an episode of Qore, but if you missed it then, now is your chance to acquire it. The last and arguably least of the free games is Kahoots, a launch title from the Minis line. As a simple-yet-charming puzzle game, Kahoots reminds me mostly of Lemmings.
Those with $4.99 to burn have two fantastic choices on the store tonight. First up is a 50% price reduction on Super Puzzle Fighter II Turbo, a game I've honestly bought three times now. This 1-on-1 puzzle combat title pits a selection of Street Fighter characters against characters from the Darkstalkers series, doing battle by matching colored blocks. The other option is the brand new release of Piyotama for the PSP. This is a portable version of an adorable PSN exclusive puzzle game, matching similarly-colored eggs so that they hatch before reaching the top of the board. There is a trailer available if you need further convincing.
Good grief, I've done nothing but talk about Starcraft and puzzles tonight.
This week's new demos are an interesting lot, and are, at the very least, worth the free download. Expanding from its week of Plus-exclusivity is the Kane and Lynch 2 multiplayer demo. It's joined by rather late samples of downloadable titles Section 8 and Flower. The former is noteworthy for having players respawn by jumping from orbital dropships, and the latter is a serene look at the life of a gust of wind as it carries flower petals across fields towards a city. Coming from the same developer that created the rather enjoyable flOw, I recommend playing Flower at least once. Finally, I have literally zero interest in American football, but even I recognize that a demo of Madden 11 coming out is a big deal. Give it a download and… um… go football?
With next week being the first Tuesday of August, I expect there to be plenty of new arrivals. There should be a refresh of the PSN Plus section, with content scheduled to change with the months. This also marks the theoretical last week of WipeOut being free, so download it while you can and you should be able to play for as long as you're a Plus subscriber.