Comic Non-Sans: Punch, Pie, and Sequels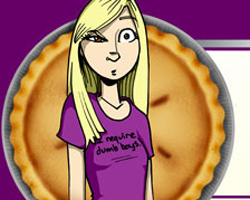 One thing I learned all too well when I brought one of my own comics to a close this spring was that readers do not want things to end.  Of course, I suppose this is true of all fandoms — many fans don't see the end of something as a natural conclusion so much as a theft.  So really, I shouldn't have been surprised when the majority of my feedback was in the form of requests for a continuation or a sequel.  I knew it couldn't happen, certainly not from me, but I'd be lying if I said it was a bad idea, period.
I remember all too clearly the day Queen of Wands ended.  In Aeire's own words, after she uploaded the final page she "started crying like a little weepy bitch," and I can't fault her either as an artist or as a reader.  The ending was very touching and well written, and felt natural.  (Of course, Kestrel became the first to join Randy Milholland's Home for Wayward Webcomic Characters, but her life in the QoW universe came to its own conclusion.)  I was sad to see it go, but I completely understood.  I can't imagine the reaction from Aeire's devoted followers, but she then went on to do something I'm not sure many people could do well.  She made a sequel, and she went a route I wasn't particularly expecting by following a character whose own story seemed to have wrapped—at least from Kestrel's point of view.
Punch an' Pie has a decidedly different feel to it, in part due to its new visual style, courtesy of artist Chris Daily.  It also shifts gears to follow one of the minor characters of the series: Angela, whose relationship (or lack thereof) with Kestrel provided both comedic and dramatic tension.  Towards the end of her presence in QoW, she actually became something of a tragic character, and her disappearance was heartbreaking, but natural.  To see her spring up again was an interesting choice, and it's also proven to be a good one.
One positive point to it, which I might elsewhere consider a negative one, is that there doesn't seem to be any need to make constant callbacks to the original series.  Yes, Kestrel's old boss is another returning presence, but Angela has moved on.  She's a very different character after her experiences in QoW, and it shows—but it's been a positive move to not have her brood on said past experiences.
Looking at it now, perhaps "sequel" is the wrong word; "spinoff" suits a bit better.  Because what would a sequel to QoW have truly done, when the story is over?  Aeire's done something here that I couldn't do, and that—sorry, fellow artists—I'm not sure I'd trust many webcomickers to attempt: actually continue in the world of her original work without resorting to beating a dead horse.  It's a big decision to pull something to a complete stop, and an even bigger decision to keep it that way.  Though I can't help but find myself wondering how many e-mails per day she gets asking when there will be a QoW reunion in PnP.  For your sake, Aeire, I hope your readers are far more understanding.
Punch an' Pie updates every Tuesday and Thursday … but I have yet to receive any actual tangible punch or pie.  I am optimistic, though.