Blightyvision: "Blackadder"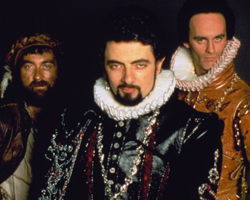 Created by Rowan Atkinson, Richard Curtis, and Ben Elton
Starring Rowan Atkinson and Tony Robinson
It really seems a little unfair to allow myself to review my gateway drug.  In fact, I came to the point where I decided everyone must have seen it, and thus doing any sort of write-up would be superfluous.  But it seems to be slipping out of the fandom consciousness slowly, likely due to the fact that it is — oh my God, really? — nearly 25 years old.  Thus, a refresher for yours truly and other fans, and hopefully something positive for those whose knowledge of the show consists of "Hey, it's Mr. Bean!"
In its original form, "Blackadder" (titled "The Black Adder" in the first season) was an alternative history comedy set in 1485, in which Richard III actually won the Battle of Bosworth Field.  After being murdered, he is replaced by his son, Richard IV (Brian Blessed as Laughing Bearded Fat Man).  King Richard is possessed of two sons: Harry, Prince of Wales, and the less-liked Edmund (Rowan Atkinson).  Fighting against his lack of favor, Edmund names himself The Black Vegetable Adder and, with the help of his clever servant Baldrick (Tony Robinson) and his less-than-clever friend Lord Percy Percy (Tim McInnerny, recently Oodified in "Doctor Who"), decides to move himself up the ranks to eventually take his "rightful" place as King of England.
Later seasons focus on some of the increasingly clever bastard sons in the Blackadder line, all of whom are played by Atkinson and attended by increasingly stupid descendants of Baldrick.  "Blackadder II" focuses on a favorite of Queen Elizabeth I (an insanely ditzy Miranda Richardson), "Blackadder the Third" follows the butler to the soon-to-be King George IV (Hugh Laurie in his young-and-goofy days), and "Blackadder Goes Forth" moves to the trenches to follow Captain Blackadder's attempts at not getting killed during World War I.  A few specials are dropped in between, including the self-explanatory "Cavalier Years," a look at the kindest man in Britain in "Blackadder's Christmas Carol," and the present-day/time-travel adventure "Blackadder: Back and Forth."
I've always believed that the longer a show is, the more forgivable it is to have "off" episodes — and the "Blackadder" series are no exception.  However, I know for a fact that I am sticking my neck out when I say that the original series, "The Black Adder," is nigh unwatchable as opposed to later versions.  Yes, the budget was much higher, using actual castles and real horses and amazing exterior shots, but Edmund as a character was unbearably creepy and mushy-faced compared to his later incarnations.  The first series was the brainchild of Richard Curtis (he of the Hugh Grant-y rom-coms) and Atkinson, and was never meant to continue.  When fans demanded a follow-up, Atkinson stepped down as a writer and was replaced by Ben Elton … a good change all around, as Elton was the one who suggested making Blackadder the clever one and Baldrick the idiot.  This formula carried through all the future series and specials, and the writing was a lot tighter and cleverer to boot.
Laurie, McInnerny, Richardson, and Stephen Fry (the pious Lord Melchett in "Blackadder II") fill regular roles throughout future series, occasionally as their own descendants, but also as different historical figures.  For example Fry, notably absent from "Blackadder the Third" as Melchett, appears instead as the Duke of Wellington, whereas Laurie plays two separate roles in "Blackadder II" prior to taking on the role of Prince George in the following series.  Their characterizations get increasingly more ludicrous with each iteration, but in the world of the show where ludicrosity is king, it's a nod to the fans more than anything.  Keep your eyes peeled for fandom cameos from Rik Mayall, Simon Jones (the original Arthur Dent), Fourth Doctor Tom Baker, and Chris Barrie (Arnold Rimmer), as well.
At its best, "Blackadder" as a whole follows the old John Lloyd rule of comedy writing: every line is either a joke or a lead-up to a joke.  It has beautifully quotable turns of phrase ("You wouldn't see a subtle plan if it painted itself purple and danced naked on top of a harpsichord singing 'Subtle Plans Are Here Again'"), and while an occasional episode may end on an unsatisfactory flat note, those are the minority.  The best of each series tends to be, for better or for worse, the final episode.  In each case it is significantly darker as the end of the half-hour approaches — after all, anachronisms have to be mopped up and superfluous characters have to be disposed of.  "Blackadder Goes Forth," especially, ends on something of a downer (albeit a well-written downer), especially for those who truly comprehend of the losses Britain suffered during the first World War.
You don't have to be a history geek to like "Blackadder," but it sure does help.  If you're not, a series of special features narrated by Tony Robinson are included rather helpfully in the DVD box set, in order to clear up some of the more obscure jokes.  At the same time, it's completely possible to watch this as silly laid-back viewing.  This is not for those who have low or zero tolerance for the utterly ridiculous.  But for those looking for a bit more background into what puts the "com" in "Britcom," it's a great way to get exposure to multiple actors and writers at one go.
"Blackadder" is available in its entirety in a super-hardcore remastered box set.  And if history doesn't tickle your fancy, just watch it to see Dr. House in flapper-drag.