The Wibbly-Wobbly Timey-Wimey Watchlist: "The IT Crowd" Season 4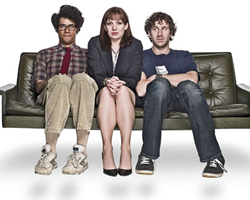 There are plenty of shows, movies, books, and comics out there whose appeal can be prefaced with "If you have ever worked in tech support …" or "If you've ever worked for a large company …"  It's true enough that "The IT Crowd" is one of those shows, but it's gained appeal even among people who have never been unfortunate enough to deal with other people's inability to turn computers off and then on again.  So much appeal, in fact, that the show has just kicked off its fourth season.
For those not yet in the know about the show, "The IT Crowd" focuses on an underground tech support department (literally — they're in the basement), peopled by an overenthusiastic businesswoman, a typical grungy techie, and … whatever the hell Moss is.  Though rooted in truth to a degree, the episodes tend to take a semi-surreal bent more often than not, with everything from German cannibals to flaming bras.  The show's bizarre humor has gained the attention of viewers worldwide, including comedian Alan Davies, who has declared in the past that his love for the show comes second only to his devotion to the recently-folded "24."
Channel 4 has taken major leaps with airings of "The IT Crowd," allowing many episodes to be downloaded for seven days prior to their actual air date (to UK license-payers).  This season, the first episode was handled in much the same way — albeit only for UK and Irish viewers, and then only with registration, in order to protect the distribution of the show to some degree.  Episodes are still available to watch via Channel 4's 4oD service — if you live in the right place.
Season 4 of "The IT Crowd" is currently airing on Channel 4 Fridays at 10 PM, and a fifth season has already been commissioned.  Is there really so much stupidity in large companies that one can get five years' worth of material out of them?… don't answer that.