Strippable Cover Reviews: Scott Pilgrim's Finest Hour by Bryan Lee O'Malley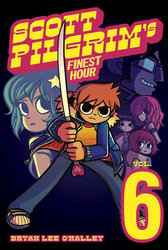 Scott Pilgrim's Finest Hour by Bryan Lee O'Malley

(Note: I will do my best to avoid any spoilers, but with something like this, it's hard not to discuss some minor plot points.)
So here we are. Today is it.  The six year journey of the Scott Pilgrim series of graphic novels ends today with the release of volume 6, Scott Pilgrim's Finest Hour. And creator Bryan Lee O'Malley is ending on a high note.
The series, over its long run, has dealt with music, video games, love, doomed relationships and drinking to forget. These, in reality, all fall under the umbrella of character development. And in this final volume, that is the central focus. We see Scott, after the disappearance of Ramona, returning to the desert in his mind and in a lot of ways regressing back to where he was at the beginning of the series, a slacker lying on a bed playing video games while gay-best-friend Wallace Wells gives him typically bad advice.
But, with this being Scott Pilgrim, characters tend to level up rather quickly.

The book overall continues the more serious bent started in volume 5. O'Malley has been hard on his characters during the series, and we're eager to see where those threads go. Scott, confused and hurt, tries to go back through his love life and fix things with each of the women he screwed up with before. Of course, as suave as we know him to be, this tends to result in blurting out embarrassing, idiotic things. Kim Pine (a personal favorite) returns and once again is a strong force in Scott's life, with even him able to realize this. Stephen Stills, Knives Chau, Envy Adams and Young Neil are all given their moment to shine, and O'Malley is adept at choosing what has to be the correct ending for each.
We're also given answers to some of our earliest questions. Just what the hell is the glow? Why has Gideon put all of this together? What is Negascott? What was that room that Scott stumbled into inside Ramona's head in volume 4?  And just why did she disappear? O'Malley handles these with a deftness that for the most part satisfy in their resolution, the only one suffering being a slightly convoluted and offhand explanation of the glow.
And of course, what we're really here for is THE fight. The final boss battle. Scott vs Gideon. This final fight takes up nearly the entire second half of the 248 page book and is just as epic as is required. Transformations, subspace, Final Fantasy homages…they all make it into this fight. The battle is the most interesting one of the series, requiring Scott's emotional and mental strength as well as his physical aptitude.
As is natural over the course of six years, O'Malley's art style has changed and grown. The basics are very similar, but you can see that behind the pen is a more confident artist. There are full page splashes that are beautifully shaded, unique scenes that stand out from the simple linework which is a hallmark of the series. He throws in some new things as well, including hilarious and unreliable 'memory cam' scenes, done in simplistic chibi style with dialogue reminiscent of the LOL-cats.
When you look back at the series, which I did after reading through this volume twice, you realize how much has changed, both in the book's style and in the characters themselves. Scott was a bit of a clueless douche, and while he's still in danger of that, he is growing up. There's a moment when he makes that choice and it's not an easy one. And as one character remarks towards the end, "Maybe we can get unstuck."
I don't think you ever were. Bravo Scott Pilgrim and bravo Bryan Lee O'Malley.