Back of the Box: Black Stories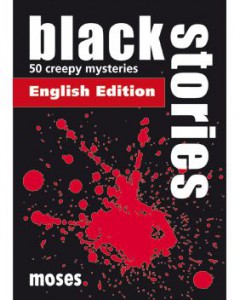 A couple of months ago I went to a little convention called PAX East. I had my tax refund money in my hand, and I was looking for a game to buy, one that I could easily carry, one that a lot of people could play at once, and, most importantly, one I thought my friends would enjoy.
I asked the vendor specifically for a card game I could buy, thinking of something along the lines of Werewolves of Millers Hollow... preferably with a C'Thulhu theme, or, at least a 1940's theme.
The upside of this story is I came away with Black Stories, the downside is twofold: 1.) I missed out on a golden opportunity to buy Burning Wheel, and 2.) I came away with Black Stories 1.
Black Stories is the game that I carry around most of the time in case random parties happen (seriously, they pop up all the damn time, you'd be surprised), and we need something to amuse ourselves while the clown/stripper/hobo arrives. It is the simplest game ever in that all you do is ask questions.
So….
Should You Buy This Game?
Here are some things to keep in mind when deciding if Black Stories is right for you.
Set up:

Open Box, pick up card, play

Play

One person decides /is chosen to be the Story Master, as it were, who will read the front of the card, the

situation, out loud. Then they will read the answer on the back to themselves

Players ask yes or no questions to guess how the situation came about
The person telling the story can never lie
If the players ask about something that is irrelevant, the Story Master must say so
When the solution is found, depending on your group, either the person will continue telling the stories, play will pass to the left/right, or the person who put all the pieces together and got closest to the solution

Finishing the Game:

Ask enough questions and you will get the solution. There are no points, and loosing means you probably weren't thinking out of the box enough.

Things to Consider:

Some (most) of the stories are dark, involving murder, suicide, etc… and so Black Stories is not the type of game for everyone – I know I'd never play it with some members of my family.
There is a limited number of cards in the box, and once you go through all of them there's not much use in replaying the game.
There are expansions, in German, a few in French, and exactly one expansion in English, and I can't seem to track it down. Maybe you'll have better luck.
TL;DR:
Players: 2+ (I think 6 is an excellent number)
What You Need: Friends with a good or dark sense of humor
Ease of Play: Super Easy, after all this is basically 20 questions.
Speed:  Usually pretty slow. The situations are bizarre and require you to think outside of the box, which can take a while. The more people you have, the more questions get asked and the more you can build on (of course, it also gets more chaotic if you don't listen to what everyone's asked).
Type of Game: Strategis, cooperative, riddle
Fun Factor: High if you like figuring out puzzles. Low if you don't. Really low if you are disturbed or disgusted by stories of death.
Replay Value: High and Low. You'll want to pull it out at parties with your friends and get through all the cards, so in that sense, as long as you haven't finished the box of cards, replay value is high. Once you're done with the box though, why wouldn't you want to replay it?
In the end, what matters most is the type of game you're looking for: Do you want a game that you and your friends can just sit around a table, eating, and throwing out wild and bizarre possible scenarios ("Was the killer a midget? Were they a prostitute? Was there a ninja?") and actually get a yes answer to some of them? Do you want a game that is more about collaboration and fun than winning?  Then this is for you. It's a great party game and the more odd you can think, the better. It does not however, have a long shelf life, and a 2 player version is pretty boring.
Jill's House Rules: If the group is really really stuck on a situation, you can ask, once, for a hint, and the Story Master will tell you, in their own way, something to help you along. I tend to favor "You are not thinking about [x] as much as you should" or else "You need to consider [x]'s relationship to [y]", bu other people can play that however they want.
I have no idea where you can find Black Stories. Perhaps in stores some of the time? I lucked out and almost wished I never found this game, as actually obtaining them outside of a convention setting seems impossible (no, wait, I'm a liar, you can find the first edition for sale on Amazon from a reasonable 10 bucks, plus shipping, to $53. Crazy… )
Black Stories is distributed in North America (or, at least, Canada) by kikigane, and try as I might I can't get an email through to ask how to obtain the only English expansion available in the States. We like interesting games here too!