Blightyvision: "Strange"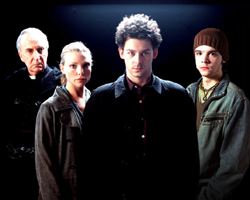 Created by Andrew Marshall
Starring Richard Coyle, Samantha Janus, and Ian Richardson
Remember how I was talking a few columns ago about how Richard Coyle disappeared from "Coupling" to star in another TV series?  Looking back, I figured it's only fair if I address said series.  Especially considering it's a true buried treasure that deserves more attention than just being known as "the show that stole Jeff from us."
So what's "Strange"?  Besides being an accurate descriptor of the show, it's also the actual name of the protagonist.  John Strange (Coyle) is a defrocked priest who, thanks to the Christian charity of the creepy Canon Black (Richardson, who appeared as Death in "Hogfather" prior to his passing), has a nice little run-down house behind the local church and basic living expenses covered.  This leaves him free to engage in his favorite pastime: demon-hunting, which is what got him into this whole mess in the first place.  The local clergy and his former congregation still look up to Strange as a source of both advice and protection, which finds him flying in the face of Canon Black's apparent skepticism whenever bizarre circumstances arise.
And boy, do they arise.
Jude Atkins (Samantha Womack, nee Janus at the time of production), a local nurse and all-around brainbox, is thrown into the whole mess of the series when her partner of twelve years turns out to be the most recent demon on John's hit list.  As said demon was also the father of her son Joey, Jude finds herself sticking closer to John than she at first feels particularly comfortable with.  As the series goes on, though, she becomes more and more a part of his demon-hunting, using her general knowledge and research skills to watch his back and keep him from getting himself killed.  Also in John's Scooby Gang are Kevin (Timmy Lang), a psychic with Down's Syndrome also under the church's care, and the geeky-yet-endearing technical whiz Toby (Andrew Lee Potts, "Primeval"'s geeky-yet-endearing technical whiz Connor).
From the protagonist's first words, one is inclined to believe that the pilot rode heavily on Coyle's presence — seeing the man we know as Jeff Murdoch look up at the camera and state blandly "Yes, I'm Strange" always elicits a giggle from any Britcom fan.  But John, while having his comic moments, is at heart a very dark character.  He is driven by a motivation we are offered the occasional peek at, and flip-flops nicely from being cynically humorous to being a downright badass.  The late Richardson is beautifully dry and wicked, but spends a fair chunk of the season seeming to be villainous Just Cuz.  Patience is required; he does eventually offer some background into his attitude on both his "insane" charge and the demons he hunts.  Toby, the obvious Tin Dog of the series, also pops in as comic relief, though his short scenes always leave one wanting a bit more.
The style of demons they hunt tends to be, not surprisingly, of a more straightforward Biblical bent, with regular references made to the possible evolution of these demons in the modern consciousness.  As for the appearance of the demons themselves, their otherwordly nature is conveyed through heavy and indiscriminate use of color contacts.  CG is used sparingly in favor of makeup and some of the most bizarre props this writer has seen on television — the way one demon chooses to propagate would make any woman second-guess breast implants.
In the hour-long pilot (2002) and six episodes following (2003), we get a great deal of plot and characterization packed in very quickly.  All the characters become familiar to us very early on, with the major exception being (not surprisingly) pretty much anything about John's life prior to being defrocked.  Peeks into his fall from "grace" and his desire to take down demonic presences so aggressively are paced well throughout the series, leading up to a series of surprising revelations that culminate in an epic cliffhanger …
… that will never be resolved.
The show was cancelled after one season, leaving the show in a rather disgusting limbo from which it will likely never be rescued.  Which is a great pity; the show was building up to what could well have been a fantastic season premiere.  How, I shan't tell you.  After all, just because the show never comes to its intended conclusion doesn't mean there's no such thing as spoilers.
If you can get your mitts on this one — a real trick, as only Chiller seems to even acknowledge its existence anymore — it's a fun watch.  It isn't jump-out-of-your-skin scary, overly gory (well, maybe just a little gore), or particularly deep.  But it's a well put together show, and far more worth your time than some others of its genre out there.  Why it didn't have the numbers to go on past its few episodes is anyone's guess.
"Strange" is not available on DVD anywhere at all, but is rerun arbitrarily on Chiller TV.  Also, "defrocked" is an awesome word and totally sounds like something from a naughty Victorian novel.