The Wibbly-Wobbly Timey-Wimey Watchlist: "Single Father"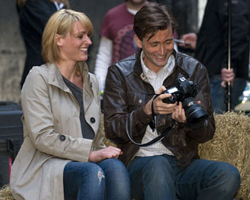 Did you know David Tennant is Scottish!?  Good Lord!
I've never believed in a "Doctor Who" curse — former Doctors becoming so associated with the role that no one would ever accept them as anything else.  And honestly, if I did, David Tennant's career as of now would disabuse me of the notion pretty quickly.  He's jumped feet-first out of the Whoniverse and back into the mainstream without missing a beat.  Next up from him?  "Single Father," a new four-part comedy/drama soon to air on BBC One.
The miniseries was penned by Mick Ford, the writer behind the series "William and Mary" and one-time "Ashes to Ashes" contributor, and lands the leading man back in his native Scotland.  Tennant plays Dave, a photographer struggling to raise his four children after his wife Rita's untimely death.  Complicating this further still is the fact that he is beginning to fall in love with his wife's best friend, played by "Coronation Street" alum Suranne Jones.
"Single Father" is being joint-produced by Red Production Company (which also brought us Tennant and RTD's "Casanova") and BBC Scotland, and also features Rupert Graves (Inspector Lestrade in the upcoming "Sherlock"), Laura Fraser (also of "Casanova"), and Warren Brown (most recently DS Ripley in "Luther"), to name three.
Of this series, I ask the same thing as I do of all Tennie vehicles: will there be enough scenery, or will he have to go hungry?  He's proven himself to be a fantastic actor when he can own the show, but something of a steamroller when he has to share the screen equally with anyone else.  With Hamlet under his belt, he appears to be getting cast in roles that take advantage of this, so hope springs eternal.
"Single Father" is coming soon to BBC One.  If it airs on BBC America at any point, it may well be shown with subtitles for us poor colonials who apparently can't understand regional accents.