PSN Tuesday – July 13, DEATHSPANK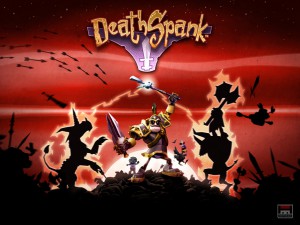 It's a strange week on the Platstation Network. My never having played a non-soccer, non-NBA Jam sports game leaves me completely baffled when reading over the list of TWENTY new downloadable add-ons for NCAA Football 11. Having never finished Cross Edge, I couldn't justify purchasing Trinity Universe, and so they may as well be speaking in Mongolian when describing the eight pieces of new DLC for that game. And then there's something called Landit Bandit.
My unsurprising and enthusiastic recommendation for this week, however, is DeathSpank. Developed by HotHead Games and published by EA, DeathSpank has been described as Diablo-meets-Monkey Island. If that alone doesn't have you running for your wallet, there's also the fact that the Creative Director for the game is Ron Gilbert, co-creator of Monkey Island. A loot-heavy action RPG with local co-op, this game could have been rubbish and I would have played the hell out of it. I mean, I played Too Human enough to get multiple characters to the level cap, and that was every bit as unimpressive as the reviews said. Available now for $14.99, I really can't understand why you're still reading this and not buying DeathSpank. There is a demo available if you don't trust me or the nifty trailer I've embedded below, though.
Mentioned earlier, the other new downloadable game on the PSN today is called Landit Bandit. They describe the game as being similar to Crazy Taxi, and the trailer definitely back that up. The obvious difference being that instead of driving, you control a rickety-looking handmade helicopter and fly about. For such an odd game, I would have loved to try out a demo, but unfortunately, there is none. Landit Bandit can be your for just $9.99.
If you haven't tried out Blur yet, I definitely recommend downloading the multiplayer demo that's now available. I've been playing this game a lot recently since Best Buy had it on sale a few weeks ago, and I'm having a lot of fun so far. A simple description for Blur would be that it's like Mario Kart, but with real cars. The driving is simple-yet-deep through the large selection of cars, each with different attributes like speed, acceleration, tire grip, and health. The power-ups found in races are all easy and fun to mess around with. Different game modes allow for racing without power-ups, pure battle with no racing at all, and various degrees in between.
The last items I want to point out are the new Street Fighter Alpha 3 Avatars. I don't usually mention the $0.49 avatars that have been slowly coming out, but these stood out as an interesting batch. The biggest news in the Alpha series has been the inclusion of characters that used to be exclusive to those games in Street Fighter 4. Since the release of Super, there have been rumors flying around about possible downloadable characters to expand the roster. The characters rumored? Yep, the exact same ones depicted in the avatars released today: Charlie, R. Mika, and Rolento. Combine this with Ono-san, the game's producer, teasing a big announcement at Comic Con next week, and I start connecting dots. Or I'm just way too excited for this week's release of issue #1 of the 30 Days of Night/X-Files crossover comic and I'm seeing conspiracies and hidden truths everywhere.
The full list of new content can be found at the official Playstation Blog.
What do you think, faithful readers? Buying anything this week?