Lyssa's Link of the Day: LOL Cat Eclipse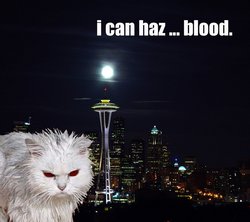 I cannot take credit for finding this. My wonderful friend, Vin, knows of my disdain for Twilight and sent this to me because he thought I would get a kick out of it. I did, and so I share it with you.
WARNING: Contains slight spoilers
http://www.popsuede.com/2010/07/twilight-saga-eclipse-with-cats.html
The evil geniuses over at Pop Suede have found a way to make even the most boring summer blockbuster entertaining. I, personally, could not stop laughing while reading this and checked out their takes on the other two Twilight films as well as their takes on the Sex and the City movies. 
It's the best thing to happen to the movies since Thirty Second Bunnies.