Blightyvision: "Top Gear" — The Road Trips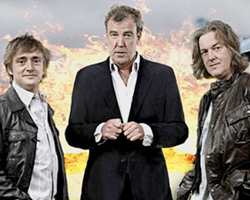 Or: how to make three men hate each other even more than they already do.
Starring Jeremy Clarkson, Richard Hammond, James May, and the Stig
Now here's a lovely way to spend a summer: get together with your friends, get behind the wheels of some classic cars, and drive through beautiful and exotic locations together.  Though I'm assuming if those are your plans this summer, you haven't included nearly dying in sub-zero weather or being shot at by rednecks as part of your activities along the way.
Of course, this is "Top Gear" we're talking about, where proving a point means going above and beyond the call of duty (and, more often than not, common sense).  More and more frequently, the three presenters have found themselves on lengthy, often misery-inducing road trips to prove the mettle of various sorts of low-end cars.  And while there are plenty of these to choose from in recent series, there are five that have caught the eyes of fans: drives through South America, the middle of Africa, Vietnam, the American South, and the North Pole.
Your level of disbelief is likely inversely proportional to how many episodes you've seen.
Save for the North Pole challenge, the rules of these trips tend to be fairly similar: each presenter buys, for what usually ends up being the equivalent of £1,000, the best car they can afford — or, more often than not, the only car they can afford.  They're then given a route to follow, stopping to take part in a Series Of Challenges along the way.  Said challenges allegedly test the various merits of their cars.  However, as this is "Top Gear," the tests are more along the lines of, say … seeing how quickly your car can brake before plunging you into a river full  of hungry alligators.
The North Pole trip was markedly different in that the test was not to see how well certain cars would do against each other; it was to see whether one could drive to the North Pole, period.  After a rather disheartening briefing by Sir Ranulph Fiennes, Jeremy and James piled into a Toyota Hilux, while Richard teamed up with a dogsled team for a more traditional trip north.  The special ended up pulling a lot of ire from people who claimed that the Hilux's drive would disturb or destroy bits of the polar ice cap — but, frighteningly enough, it was almost the other way around, making this challenge one of the more genuinely distressing they've encountered.
That's another common factor among the majority of the road trips: true danger, or at least major difficulty.  Whether it's driving across the salt flats of Africa where all but the lightest modes of transport will sink, taking tiny mountain roads with literally zero room for passing, or riding through Vietnam on a red-white-and-blue motorcycle pounding "Born in the USA," many of the challenges are genuinely unpleasant.  Early on, such challenges caused all sorts of anger amongst the lads, but in later trips an odd camaraderie develops when they're faced with something particularly difficult or dangerous.
Which is not to say the road trips are super-serious.  Not at all.  On the contrary, they supply some of the most memorable moments of fun and humor in the series as a whole.  Take, for example, Richard's attachment to his little yellow Opel Cadet in the Africa special — such an attachment, in fact, that he did a very un-"Top Gear"-like thing and named it Oliver.  Take also the challenge during the American road trip where the boys had to find and eat roadkill.  Ever seen a cow on top of a Camaro?  Now's your chance.
Whereas the road trips used to feel a bit odd — no news segments, no Star in a Reasonably-Priced Car — they've almost begun to feel like the essence of the series.  A point that fans really didn't want to address was raised, being that the show has the ability to become a bit gimmicky and cartoon-y.  The road trips, though, breathe an occasional bit of fresh air into the format.  On the road, they aren't The Mean One, The Short One, and … whatever James May is.  They're three old friends interacting, messing with each other, banding together when necessary, and really epitomizing the love of cars that has always made the show fantastic.
Though they may be running out of crazy places to drive.  My vote for next trip?  Rings of Saturn.  Do it.
The "Top Gear" Polar Special is available on Blu-Ray, as is the South America Special (packaged with the Romania and Bonneville outing).  And … oh, I know I'm supposed to be witty here, but all I want is to see some video of Richard and Oliver.