The Wibbly-Wobbly Timey-Wimey Watchlist: "Sherlock"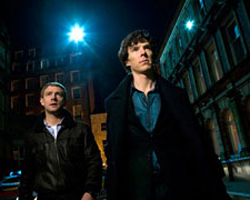 No deerstalkers here, either, no sir.
Steven Moffat's been getting a lot of face-time — or perhaps that should be "name-time" — in my articles of late.  But you have to admit, he's been a busy guy over the past few years.  Ruling Who-ville and continuing with other projects on the side does put him pretty heavily in the Anglophile limelight.  Nor are you done hearing from him just yet; because while you're waiting on the "Doctor Who" Christmas special, he's got another project in the works: a modern-day remake of the Sherlock Holmes series.
"Modern-day?" you say.  "Isn't that called 'House'?"  Well, yeah.
"Remake?" you say.  "Didn't Robert Downey Jr. just do one of those?"  Well, yeah.
This one, though, is being talked up as being rooted far more deeply in the original books.  The stories and characters are transplanted to the present day — no anachronism, no name-changes or sorta-inspired-by characterizations — but elements are being kept as close to the original as possible.  The faithful Dr. Watson, for example, is (as before) returning home from the war in Afghanistan.  Such similarities will apparently "appease ardent fans of the classic tales," according to The Moff.
The series is as much the brainchild of Moffat as it is of Mark Gatiss, a previous "Doctor Who" writer himself and one of "The League of Gentlemen."  According to the two, the concept was dreamed up on train rides to and from Wales during production of "Who."
"Sherlock" stars Benedict Cumberbatch, best known for playing the title role in the 2004 BBC drama "Hawking," with Martin Freeman (the big screen's Arthur Dent in The Hitchhiker's Guide to the Galaxy) as Watson.  Also on board is Euros Lyn, another "Doctor Who" alum (as well as directing last year's "Children of Earth") as an episode director.
A pilot was done up, costing a good £800,000, but it appears it will never see the light of day.  According to an unnamed BBC source, the concept of the series and the character interactions changed so much by that point that they had to start over.  The series will instead consist of three 90-minute episodes.  Which stories the series will adapt is up in the air — if, in fact, it's based directly on any previously written work at all.
"Sherlock" is set to air this August/September on BBC One in the UK, and in the US on PBS under the "Masterpiece Theatre" banner.  We at GOA are currently taking bets as to when slashfics for these versions of the characters will begin rolling in.