PSN Tuesday – July 6, Persona 3 Portable and the rest of it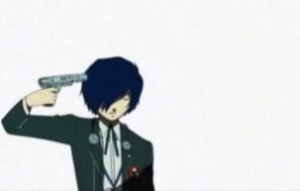 Welcome to July, folks. Go buy Persona 3 Portable. I'm not pulling any punches today, and I'm completely serious when I say that Persona 3 is one of my favorite games of all time. It's a brilliant JRPG, combining a highly enjoyable social sim with a great dungeon crawl. I'd be playing it myself now, but I pre-ordered from Amazon.com to get a replica hat. I also had a gift certificate, but the hat is way too good. For those, like me, who have already bought the game twice on the PS2, the PSP version adds the option to play as a female protagonist, changing the dynamic of most interpersonal relationships in the game. Also added to this version is the ability to control every party member in battle, a la Persona 4. Both the download and retail versions of Persona 3 Portable cost $39.99.
Also new this week is the July episode of Qore, Sony's interactive magazine. The episode is free to Plus members and those who subscribe to Qore. Otherwise, it costs $2.99 for the individual episode. Highlighted this month are Killzone 3, Majin and the Forsaken Kingdom, and the Playstation Move.
Having sold a ton of copies, I feel the need to mention the absurdly priced Modern Warfare 2 DLC. For $15, you get 5 new multiplayer maps. I can't imagine anyone thinking that a reasonable price, and really only the hardcore fans of the game will buy this.
On the good side of the DLC spectrum, Rock Band returns to my favor this week with a 12-track Creedence Clearwater Revival song pack. For those who were angry at the older offering on the store, this pack contains the original version of "Fortunate Son" as opposed to the cover that was previously available. Each track is available to download for $1.99 each, or $19.99 for the lot. Also, those playing Guitar Hero have a 3-song pack of Queen that can be picked up for $5.49.
The last bit of noteworthy DLC this week comes from Little Big Planet on the PS3. The big Marvel tie-in starts today with five costumes and a level pack. Iron Man, The Thing, Daredevil, Mystique, and Dr. Octopus are available individually for $1.99, or for $5.99 for the pack. The level kit that also dropped this week contains four new levels, a ton of stickers, 24 objects, three music tracks, and one background, all of it Marvel-themed.
Honestly, having released Persona 3 Portable this week, Sony could ignore the PSP for the rest of the month and I would still say that the PSP wins every week. Thankfully, they're not doing that and have also dropped a multiplayer demo for Patapon 3. Each game in the series has had a demo with content that transfers over to the retail release, so it's a safe bet that the same will be true for this iteration. For those unfamiliar with Patapon, the games are rhythmic real-time strategy, with players controlling a drum beat that the titular creatures march to war to.
Thoughts, faithful readers? Buying anything this week?