Comic Non-Sans: "Something*Positive" and Artists vs. Fans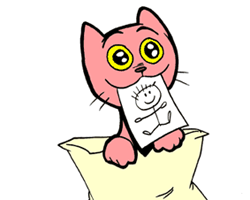 Or: "We don't pay you, so you owe us."
Proximity breeds entitlement.  It's just true.  As great as it is having The Twitters available to us, it can encourage a very negative fan behavior.  Once you have a creator or celebrity's ear, it becomes very easy to expect them to listen to you unconditionally — and, if they do listen to you, to then expect them to take what you say to heart.  Webcomickers most certainly get the brunt of this: not only are they closer to the punters than upper-level 'net personalities, but they also create free content.  And somewhere along the line, readers developed a mentality that webcomic creators owe them in exchange for their loyal fandom.
Some webcomickers take this in stride.  Some of us write irate articles.  And then you've got Randy Milholland, who has always believed in showing rather than telling.  His webcomic Something*Positive is famous — or possibly infamous — for not caring whom it offends, focusing instead on getting words out in a way that might eventually ring true to readers.  And in many cases, he takes unexpected angles.  Take for example the 2002 storyline Bitchcraft, in which he called out neither Wiccans nor critics of Wicca, but rather those within the religion who focus on pull rather than practice.  And in 2006, this storyline first backhanded the creators of Halloween "Hell Houses," then came back around at those who judge Christians based on said "vocal minority."  He's a brilliant writer with zero qualms about voicing his opinions, and I'm proud to say I had the opportunity to get drunk with him.
A year and a bit ago, I had the chance to meet Randy at a convention, during which we spent time trading creepy fan stories.  (Skipping to the end, basically his trumped mine.)  I'm not sure whether it's relieving or distressing to discover that bigger names in webcomics still have all the same problems, if not more so: that alienating, odd feeling when you're first told by a fan in so many words that your work belongs to them, and not to you.  And, not surprisingly, Randy did address this head-on in the Kawaii of the Damned story arc in 2008.  In it, protagonists Davan and Jason are forced to come face-to-face with the rabid catgirl-fans of their own webcomic, "Neko Neko Holy-chan."  Having their work insulted by more "professional" webcomickers (another all-too-regular occurrence), they find themselves defended by their unexpected fangirl minions, only to be told that they — the fangirls — are the true owners of the comic they love so much.  A bloodbath ensues, kawaii hearts are crushed, and Wil Wheaton loses an arm.  But so long as the message gets out, these are all acceptable sacrifices, right?
Well, Randy also has zero qualms about losing readers.
The ability to be vocal in this way is, for better or for worse, a function of a webcomic's sub-genre.  If it is one known (like S*P) for being no-holds-barred, one can get away with it.  The readers won't necessarily like it, but they have only themselves to blame.  But in a world where we wince every time we hear about a celebrity slighting one of their more respectable fans, none of us wants to be accused of being That Guy and not being high-up enough to warrant it.  Perhaps it'll never change; perhaps it's a fact of life that, once you're known, you will acquire those more aggressive fans bit by bit.  How to deal?  Well, if you can't reason with them, you can always just try to confuse them.
Something*Positive updates irregularly, but very frequently.  Follow Randy Milholland on Twitter, @choochoobear, to see the comics as they're posted and to get recaps of some of his better conversations with congoers.