Pee-Wee is back, with Judd Apatow on board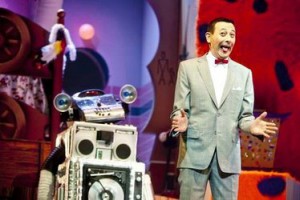 Seems a bit like a match made in heaven.
According to Variety, Judd Apatow is working on a new Pee-Wee Herman project with Pee-Wee himself, Paul Reubens, writing the script. Working with Reubens on the script is Paul Rust (Inglourious Basterds, I Love You Beth Cooper). While Apatow will not direct, he will produce the film through his own production house, Apatow Productions. The film, in a similar story to the classic Tim Burton movie Pee-Wee's Big Adventure, has Pee-Wee "in a road pic built around a gigantic adventure."
Apatow told Variety:
Let's face it, the world needs more Pee-wee Herman. I am so excited to be working with Paul Reubens — who is an extraordinary and ground-breaking actor and writer. It's so great to watch him return with such relevance.
And Reubens is just as excited:
There is no one like Judd in our business — he loves comedy with emotion and heart, and he sees what we do as art. I can't believe I'm getting this opportunity to be working with him.
Apatow became partnered with Reubens after attending one of his stage revival shows, The Pee-wee Herman Show, at the Nokia theater in LA. The show is now headed to Broadway for 10 weeks, starting in October. The film does not yet have a release date.