The Wibbly-Wobbly Timey-Wimey Watchlist: More Agatha Christie adaptations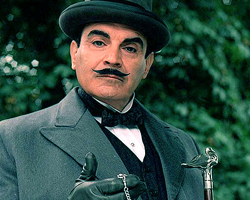 More little grey cells for summer 2010.
Looking back over the 21-year history of David Suchet as television's Hercule Poirot, I found it rather difficult to believe that Murder on the Orient Express had never been among their adaptations.  Yet, sure enough, the series never touched on it — there was a film version in 1974 featuring Albert Finney as Poirot, but never one featuring the face we've come to accept as that of the legendary Belgian detective.  But the 2010 series is taking care of that as of next month.
Earlier this year, adaptations of "Three-Act Tragedy" and "Hallowe'en Party" aired (in January and May, respectively), kicking off the twelfth season of the long-running Agatha Christie mystery series.  Those unfamiliar with this particular story, give ear: while on the aforementioned train, Poirot is asked for protection by a fellow passenger.  Poirot refuses, and discovers said passenger dead the next day whilst the train is stuck in a blizzard.  Also in this episode will be appearances by David Morrissey, Barbara Hershey of "Chicago Hope," and Toby Jones ("Doctor Who"'s Dream Lord).
Christie fans have also had their share of new adventures from Miss Marple this summer, with three new stories featuring Julia McKenzie as the sensible lady detective.  One more, "The Pale Horse," is set to air later in the summer.  The original novel didn't feature Miss Marple at all, but rather a young gentleman named Mark Easterbrook aided by Poirot's friend and detective in her own right Ariadne Oliver.  It will be interesting indeed to see how this fairly major switch-up will fare.
"Murder on the Orient Express" airs on July 11 both in the UK and on PBS in the US as part of their "Mystery!" series's "Six by Christie" season.  "The Pale Horse" is set to air sometime in August.  And yes, he's Belgian, not French.  Sheesh.