David Fincher's Girl with the Dragon Tattoo: Yo-Landi Vi$$er of Die Antwoord?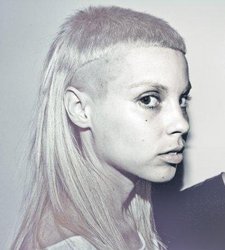 Yep, she is your butterfly, and maybe, your Lisbeth Salander too.
At least, she's what David Fincher (Fight Club, Se7en) would like his Salander to look and behave like. According to New York Magazine's Vulture, Fincher may be modeling his Salander after Y0-Landi Vi$$er of South African rap/performance art group, Die Antwoord, fame. Haven't heard of Die Antwoord? Watch the video below, and be alternately blown away, disturbed and amused. Usually, all three at once. And a heads up, that it is very NSFW, language-wise.
While it's unclear whether Fincher wants her for the role, or is just using her as a model, nothing is officially off the table yet. Die Antwoord are currently on their first world tour, and that could clash with the filming schedule.
On the same note, Carey Mulligan (An Education), who has been surrounded by speculation for the role said that "she's too busy to even think about trying for the coveted hacker gig" on Letterman. So it's a case of the more we know, the less we really know.