Comic Non-Sans: "Omake Theater" and the do-it-yourself 4-koma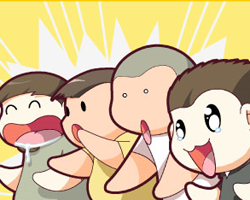 TENSO TENSO TENSO
As part of Cheezburger.com's continuing move to create picture-blogs about absolutely everything, they gave birth to the strange, self-mutating creature that is Comixed in May 2009.  Comixed encourages would-be captioners to compile (occasionally) humorous pictures into 4-koma, or "four cell" comics.  Said comics, the style of which originated in Japan, tend to make liberal use of exploitables, or blank images that have developed into memes thanks to imageboards like 4chan (which I'm not linking).  Of course, as is true of anything with this level of audience participation, it doesn't take terribly long for fellow readers to cry "FAIL" or "OLD."  And, as is true of such things, oftentimes they end up being right.
That's the problem with the Internet, you see.  (Sorry, that's a problem with the Internet.)  Over time anything gets to a point where pretty much anyone can do it.  Back in the '90s, there were very few webcomics, for example.  Nowadays you have thousands.  What percentage of that is any good?  You'll probably never get a solid number simply because of the sheer amount out there.  Reader-created content, while good from an audience-building standpoint and thus from an ad-selling standpoint, more often than not hinders or destroys attempts to get to the good stuff.  (I'll be honest, I stopped following any of the Cheezburger sites long ago, and tend to wait for friends to link me to the goodies.)  The downside of this is that truly talented artists have to put in 1000% more sweat than usual to get seen.  The upside?  They do.
So hopefully that's enough of a lead-up for me to justify plugging an exploitable-driven 4-koma this week.
Omake Theater started half a year after the birth of Comixed, and uses many of the same memes as have become common there.  The big difference?  Omake Theater is actually drawn. And, let's not lie, it's drawn with a level of cuteness strong enough to floor even the most hardcore Akiba maid.  A new strip comes out every Friday, invariably of the same technicolor glossy quality that one comes to expect after reading the archives, and possessed of little (if any) text.
Humor value?  Like any exploitable-driven 4-koma, it's iffy.  Some of them are downright hilarious.  Some take a minute.  Some will only muster a blank stare and a head-scratch.  But such is the way of the 4-koma.  Part of the appeal of the sub-genre — if it's big enough yet to be called that — is the consistent WTF-ness of them.  And Omake Theater definitely delivers its share of WTF.  But somewhere between giant broccoli monsters and … um … whatever is going on here, it is at the very least a quick amusement to add to your weekly reading.  And at its best, you will either be laughing loud enough to summon co-workers, or wandering away from your computer in a mild state of shock.  Usually when transvestites are involved.