The Fitting In Room: From Hipster to Handsome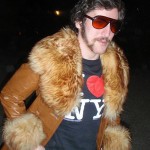 Men of the world, I implore you. I am up to my eyeballs in skinny jeans, weird frizzy and/or greasy mops, and kitschy facial hair. Your t-shirt is not ironic. And you look like you smell terrible. And what surprises me is that you expect to get laid in that. Because I know in your heart of hearts, you do not want to evoke the look of a well used Brill-O pad at an Olive Garden. In fact, I will promise you that your idea of a real man shares the same wardrobe as what a girl's idea of a real man looks like:

Han Solo. That's right. Your hero from the greatest science fiction motion picture that ever existed has the most fashionable, manliest, and desirable wardrobes that women are attracted to. You know – the women you want to sleep with.
Agreed, step one to this outfit is "Be insanely attractive like Harrison Ford". But step two is something very simple – in fact, it's to be simple: dress shirt, open vest, nice slacks.
There is another icon of manliness and style that Han Solo – space cowboy extraordinaire – probably took a cue from. It's one of the most famous movie outlaws of all time, Butch Cassidy. I'm going to be cruel and show a picture of the criminally gorgeous Paul Newman next to a hipster – forgive me, Mr. Newman! I promise to buy your dressing!

Notice that each are riding a bike but only one is using it as an accessory to enhance the fact that they are a hipster douche bag. In fact, I bet this hipster is looking at Newman and saying, "A bowler hat! Of course! That's so chic! I have one of those I got from Goodwill that I got for the most ironic of reasons!"
And I hope Newman is asking, "Why do you have a knitted squash on your head, virgin hobo?"
Because that is exactly what I am asking.
Guys, hipsters, and all males who wish to bed women – please look at yourself before you put anything on your person for the sake of irony. Think about what you are trying to communicate to women. Are you trying to steal their purse or their heart? (Hint: Butch and Han could achieve both.)