New Twilight book suggests Hollywood really wanted a boy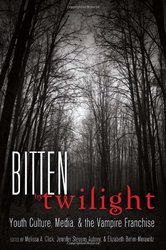 Yet they got thousands of die-hard female fans. You'd think they'd be happy.
According to Comics Worth Reading, a new book on the Twilight phenomenon from the University of Missouri discusses the gender breakdown of fans. Bitten by Twilight: Youth Culture, Media, and the Vampire Franchise focuses on "cultural, social, and economic aspects of the series and to the recurrent messages about youth, gender roles, romance, and sexuality."
The publications press release states:
Authors argue shifting of marketing strategies with Eclipse indicates Hollywood devalues female fans. … Despite the record-breaking success of the first two Twilight films, Summit Entertainment shifts marketing strategies with its third film to attract a male audience, MU researchers said. … [T]he marketing of Eclipse highlights a subplot of Stephenie Meyer's book that is dark and violent, a ploy to draw male moviegoers. The official full-length trailer for Eclipse promotes the film largely as an action movie instead of focusing on the love triangle that is established in the third book of the Twilight series.

… "Summit's desire to draw a larger male audience signals a discrepancy in the way Hollywood values male and female moviegoers," said [professor Melissa] Click. "What Summit fails to see is that by courting male audiences, they are devaluing Twilight's devoted female fans and missing an incredible opportunity to develop the terms for future female franchises."
I have noticed that the trailers for the film are becoming more action heavy. They've been airing on [adult swim] regularly, a venue that doesn't strike me as filled with Twilight fans. It's a bit cynical, but perhaps they assume they're going to get the female fans to the theater in droves anyway, so why market to them?
Bitten by Twilight is available now, and The Twilight Saga: Eclipse opens in every theater, ever on June 30, 2010.
Related Posts: Fun and fabulous prizes in store at the end of June