The Wibbly-Wobbly Timey-Wimey Watchlist: "Identity"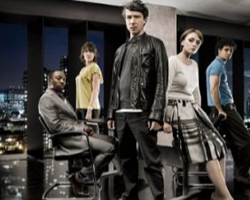 Keeley Hawes is playing a police officer.  No, seriously, this is news.
File this one under "product of its time."
Ed Whitmore, the writer behind "Waking the Dead," is turning out a new six-episode crime drama dealing with identity theft.  But it's looking like this is going to go above and beyond someone snatching your wallet and poncing off to the Shell station for ten gallons and some Slim Jims.  The special unit formed in "Identity" deals with people who take the all-too-common crime a bit too far: murderers in need of a cover, former criminals trying to escape their pasts, and other twists and turns that go well beyond the cases we've become familiar with.
Keeley Hawes (most recently of "Ashes to Ashes") stars as DSI Martha Lawrence, the department head and founder who takes all sorts of gambles to make her vision work.  Opposite her is Aidan Gillen (another alum of "The Wire" coming home) as DI Michael Bloom, an ex-undercover cop bringing his experience in leading a double life to the team.  But bringing him on board isn't Martha's biggest challenge: she has one year to prove that her department — and her hard work — is worthwhile.
The team is rounded out by Holly Aird of "Waking the Dead" as IT whiz Tessa Stein, Shaun Parkes of "Moses Jones" as DS Anthony Wareing, and Elyes Gabel of "Deadset" as DC Jose Rodriguez.
As we've been seeing with a lot of crime dramas lately, it seems like UK productions have to fight harder, and be more creative, than their American counterparts.  With so many US shows being imported (and let's face it, we turn out a lot of crime shows even when you don't count "CSI"), it takes an extra push for short-form, home-grown series to survive.  "Identity" preys both on things we take for granted — the infallibility of IDs — and the growing fear of identity theft every time we turn on the news.  With a strong writer and cast behind it, quality here seems pretty well assured.
"Identity" airs soon on ITV. And you can open your eyes now, Keeley's Flock of Seagulls haircut appears to be gone.