Scott Pilgrim Yourself with the new avatar creator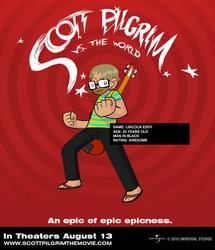 In a move that is becoming pretty common with movies that have a unique art style (Avatar, Pirates of the Caribbean both had them), Scott Pilgrim vs The World has its own avatar creator. And it actually works pretty well. It has a comprehensive set of options that you can select from.
That's mine over to the left, and really, it's fairly accurate.
Also, awesome.