Mark Waters considering big screen adaptation ofMr. Popper's Penguins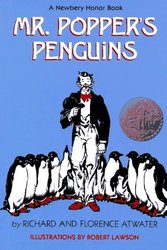 Let it be said: I love penguins. So I am tentatively excited for this. Though I'm hoping they'll keep it a period piece.
According to Variety, Mark Waters (Mean Girls) may be directing the big screen adaption of Mr Popper's Penguins for 2oth Century Fox. The classic 1938 children's book tells the story of Mr. Popper, a house painter who dreaming of a more exciting life, writes letters to Arctic explorers and receives a penguin as a gift from one of them. After receiving a female penguin from the zoo, he ends up with a family of twelve penguins and decides to take them on the road as a traveling show. Chaos ensues.
Jim Carrey, Jack Black and Owen Wilson are apparently eying roles in the film, but Ben Stiller, who was previously attached, has dropped out.