Scott Pilgrim vs The World Soundtrack tracklist announced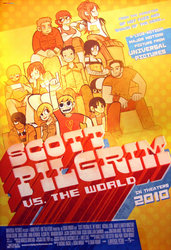 If you visit here at all regularly, you know that I've been following the development of Scott Pilgrim vs The World closely. It's not hard to see why. The film is based on a graphic novel that has strong ties to both video game and music culture, things that I, and many others, find attractive. And now, thanks to Pitchfork, we have the tracklisting to the soundtrack.
As mentioned before, Beck wrote/performed the songs for Scott's band, Sex Bob-omb but we now know that collectively awesome indie rockers Broken Social Scene are behind the music for other fake band, Crash and the Boys. Should be delightfully strange, particularly if they stick to "I'm So Sad, So Very, Very Sad"'s 0.4 second length.
Overall, the soundtrack looks pretty good, with music included from T-Rex, Metric, Beachwood Sparks, and Plumtree, with their song being our titular character's namesake. Check it out below, as well as the international trailer (I was avoiding doing another Trailer Watch for Scott Pilgrim but this one is just too awesome to pass up. I mean, it has the 'pee bar' scene!)
01 SEX BOB-OMB (Beck): "We Are SEX BOB-OMB"
02 Plumtree: "Scott Pilgrim"
03 Frank Black: "I Heard Ramona Sing"
04 Beachwood Sparks: "By Your Side"
05 Black Lips: "O Katrina!"
06 Crash and the Boys (Broken Social Scene): "I'm So Sad, So Very, Very Sad"
07 Crash and the Boys (Broken Social Scene): "We Hate You Please Die"
08 SEX BOB-OMB (Beck): "Garbage Truck"
09 T. Rex: "Teenage Dream"
10 The Bluetones: "Sleazy Bed Track"
11 Blood Red Shoes: "It's Getting Boring by the Sea"
12 Metric: "Black Sheep"
13 SEX BOB-OMB (Beck): "Threshold"
14 Broken Social Scene: "Anthems for a Seventeen-Year-Old Girl"
15 The Rolling Stones: "Under My Thumb"
16 Beck: "Ramona (Acoustic)"
17 Beck: "Ramona"
18 SEX BOB-OMB (Beck): "Summertime"
19 Brian LeBarton: "Threshold 8 Bit"