Eyes on E3: Scott Pilgrim and the Child of Eden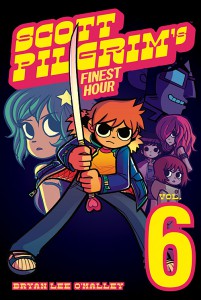 No, there's not a mysterious new Scott Pilgrim book in the works beyond the sixth, at least that I know of. This is me taking some time to highlight two games that really caught my attention this past week, making me take notice more than any other software at E3. These would be Scott Pilgrim vs The World and Child of Eden, and both are coming to a PS3 near you.
As a massive fan of the comics, I had some initial worries about an adaptation of Scott Pilgrim. However, I've seen an early version of Edgar Wright's new film. It's amazing. That just left the inevitable video game tie-in to dread. If this trailer doesn't restore your faith in gaming, you may be beyond my help.
Ubisoft sent a bullet to the wallets of gamers everywhere when they announced the involvement of both Paul Robertson, of Kings of Power 4Billion% fame, and chiptune band Anamanaguchi. As a downloadable, 2D side-scrolling brawler with 4-player co-op, this is precisely what I always imagined when I dreamed of a Scott Pilgrim video game. In a curious-but-increasingly-common move, Scott Pilgrim vs The World: The Game will be released as a timed exclusive for the PS3 in August to coincide with the release of the film.
The other game I would like to shine a spotlight on is Child of Eden, and yes, I did briefly mention it in my earlier post about Sony's E3 news. The latest game from Tetsuya Mizuguchi, who is best known for the rhythmic shooter Rez, Child of Eden was shown for the first time at Ubisoft's big E3 press conference. It's being promoted as the spiritual successor to Rez, and while the similarities are a bit obvious, I, for one, could not be happier about it. I recommend turning the lights down and the volume up for this one:
The biggest difference between Child of Eden and Rez is the option to use motion controls, specifically Microsoft's Kinect and Sony's Playstation Move. At the end, the above trailer shows what the game is like when played with Kinect, and I can't understand why Microsoft didn't highlight this during their E3 press briefing. It looks fantastic. Of note, those resisting the push towards motion gaming will be able to play Eden with regular controllers. No release date was given, nor was it announced whether it will be a downloadable or retail title.