Anime Mid-Atlantic 2010 in(verted) review
"Look over there, there's a bunch of those weird cartoon people across the street."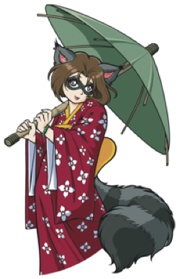 I'd be lying if I said I could deliver a perfectly objective review of Anime Mid-Atlantic from a managerial standpoint.  For the last several years, AMA has been one of my "working cons" — I run karaoke and occasionally end up as a cosplay judge.  So it would be unfair of me to try and rate the con based upon its inner workings.
Fair enough, though.  If paying attendees can comment on staff and guests, I'd imagine the inverse is true.
First off, let's get this out of the way: blah blah blah economy blah blah yadda yadda attendance down.  We've been hearing that about multiple cons for the past year or two.  AMA moved to the Chesapeake Convention Center in order to retro-accomodate the smaller crowd, and it seemed to be a proper fit this time.
And with the changing numbers has come a changing demographic as well.  A booth-mate Friday afternoon asked, 'Is it just me, or are con attendees changing?'  They had a point.  At least at AMA, the majority of Friday attendees are getting younger, with more parents chaperoning (and thus tattling on staff to other staff if things don't go right for their kids, sadly).  Saturday and Sunday saw the twentysomethings and older emerging again.  Not surprising for an early summer convention, though, where college anime clubs will have gone their separate ways while high schoolers will be meeting up.
Also splaying out in odd directions?  Where the interest in events lies.  The Saturday night dance will always be popular.  The Saturday night masquerade will always be popular … actually, let me qualify that.  Attending the Saturday night masquerade will always be popular.  And in past years, and at other conventions, spots have filled up fairly quickly.  But this year, there were all of fourteen skits (this is not a high number for a convention in its tenth year), and that was even leaving sign-ups open up until rehearsal time.
Meanwhile, karaoke sign-ups filled up within a week of the form going online.  Suss that one.
Overall, the attendees seemed to behave themselves.  Seems like a demeaning point to make, I know, but as a con gets larger, its attendees get rowdier, especially as they get younger.  I've heard no reports of vandalism, terrorizing the mundanes, or fights breaking out.  The biggest blow of the weekend was a small fire Saturday evening (which was apparently quickly contained), and beyond that, any major event-halting issues were your typical cases of people collapsing because they'd been living off Pocky and Lamune for three days.
As this was AMA's tenth year, it was decided several months ago that something special should be trotted out: in this case, the Fan Favorite Awards.  This was a proper stylin' event — I mean suits and ties on the gents, pretty dresses on the ladies, and a pair of lovely tanuki girls — complete with trophies and envelopes and the whole nine yards.  A lot of these went to anime series or networks or composers, which had no actual representation at the con and were mainly just for fun.  A few guests were handy to receive awards for Favorite Voice Actor and the like, though … imagine the squeeing.
However, as jaded as yours truly has become when it comes to noisy [name redacted] fangirls with voices like dog whistles, it was at once heartwarming and heartwrenching to see (or rather hear, as I was backstage) the crowd's reaction to the Lifetime Achievement Award.
Any anime fan now pretty much knows that Carl Macek, the man behind Harmony Gold and Streamline responsible for helping to bring anime to America, died of a heart attack this past April. He was also meant to be a guest of honor at AMA this year, and to be able to accept his award in person.  Said award came immediately after a fangirl favorite had been presented with two awards, with the audible reaction one would expect.  From backstage, as the two presenters spoke about Macek's career and influence, it was what I didn't hear that affected me so much.
The whole of Main Programming had gone silent.  And it occurred to me to wonder about these fangirls, for whom anime has only existed since Ouran Host Club and Fullmetal Alchemist, for whom the life of a dub voice actor is a mystical and unattainable dream, for whom "kawaii" and "arigatou gozaimasu" are the height of foreign language education.  I had to wonder about them, struck silent while listening to people twice their age and more telling them about a man they've never heard of, whom they will never meet, and how he gave them the opportunity to have what they have now.  I've no idea how that must have felt, being confronted with the idea that there's something out there bigger than dub actors and yaoi paddles.  I can only hope they walked away with some perspective.
And seeing as that's hardly a note to end a review on, let me leave a parting shot concerning cosplay quality — speaking, as we were ages ago, of the waning number of actual competitors.  With the decrease in competing skits (and even craftsmanship entries), there seems to be at least a mild decrease in Just Plain Bad entries.  Perhaps the ones dropping out are the less serious people deciding they can't even afford to attend the con, or perhaps there's a genuine waning interest in "shtick" cosplay.  Either works for me, since I was a presentation judge and forgot my flask at home.
Hopefully I'm not sounding too biased when I say I've always enjoyed AMA, seeing as it's my "home" con with regards to location, time spent as staff, and the fact that I've been there since Year 1.  But it's nice to see, with superiority complex duly noted, the fans behaving themselves and learning the difference between wacky fun and stupid attempts at anarchy.  Will this be a new trend in American anime conventions as a whole?  Will we be seeing the return to a laid-back, fun-centric weekend of geekery and shiny things?
… er … that would be nice, but I'm not holding my breath.  For now, stay classy, Anime Mid-Atlantic.