The Wibbly-Wobbly Timey-Wimey Watchlist: "Lennon Naked"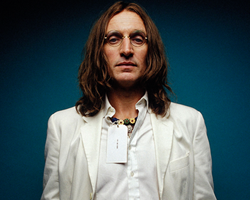 The Doctor just can't keep his hands off those Torchwood girls, can he?  First Eight hooks up with Suzie in the recently-ended "Luther," and now Nine and Tosh are getting it together.  This due to the fact that Mr. "Lots of planets have a north" is going Scouser in the biopic "Lennon Naked," soon to air on BBC4.
Part of the Beeb's Fatherhood Season, "Lennon Naked" focuses on the Beatle's life between 1967 and 1971, primarily his role as a parent and his relationship with his own long-lost father.  That, the death of manager Brian Epstein, and his meeting Yoko Ono (played by "Torchwood" alum Naoko Mori) formed the major turning point in his life that led him to become the solo public figure he is remembered as today.
Naturally, Christopher Eccleston's portrayal of Lennon is already being subjected to some pretty heavy scrutiny.  Reviews are positive so far, though, albeit not quite as generous toward Mori.  This follows pretty closely behind last year's Nowhere Boy, which focused on Lennon's pre-fame teenage years.  Expect to see comparisons between the two for weeks to come.
The tight four-year focus may benefit the one-off drama, though, especially considering these are the years that made Lennon what he is in society's memory today.  The few-and-far-between clips seem fairly impressive, at least.  (This particular clip contains full backal nudity and thus might be NSFW.)
"Lennon Naked" airs June 24 on BBC4.  Fanwank reviews begin June 25.