Updated! Insert reference to The Vapors here: Yakuza 4 is Coming to America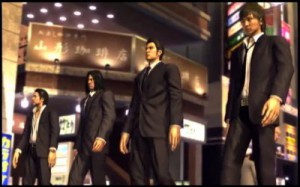 Known there as Ryu Ga Gotoku, the Yakuza series is massively popular in Japan. It gives players a taste of what life is like for Japanese gangsters. The third entry in this series was the second best selling PS3 game in Japan in 2009, right behind Final Fantasy XIII. The fourth launched in March 2010, selling just shy of 400,000 units in its launch week.
In the United States, however, Yakuza just doesn't see much success. The first game was marred by an unpleasant dubbing of the voice track. Yakuza 2 corrected that simply by leaving in the original Japanese voices and adding subtitles. Unfortunately, the US release was roughly two years after the Japanese got it, and was released for the PS2 well into the reign of the PS3. Official sales numbers haven't been released for Yakuza 3, but having been released on the same day as Final Fantasy XIII prevented it from coming anywhere near the top of the charts. Also not helping its case was outcry from the internet over Sega cutting massive amounts of content from the western version.
Apparently, though, the sales for Yakuza 3 were more impressive than thought, as Sega has announced that Yakuza 4 will arrive in America during the first quarter of 2011. In a departure from its predecessors, Yakuza 4 tells the stories of three new protagonists in addition to returning hero Kazuma Kiryu. Staying exactly the same is the setting, a fictional recreation of Tokyo's Red-Light District, Kabukicho. No mention has been made regarding whether or not there will be any content cut from the western release.
(source)
UPDATE!
According to a Sega representative on the official Playstation blog, Hostess Clubs will be included in the western release of Yakuza 4. These are clubs where customers can pay to be served drinks and converse with beautiful women, and they made up a large portion of the content cut from the American Yakuza 3. No mention was made of other previously cut content, such as Shogi and Mahjong minigames. Regardless, it's definitely a step in the right direction, and I'm pleased that Sega came to their senses in this matter.