Bring home Scott and Rammy! (Are you seriously calling her that?)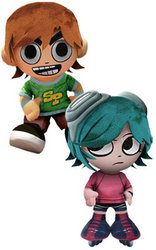 Because you know you need a Canadian slacker in your life.
As part of the massive marketing push for Scott Pilgrim vs The World, Mezco toys will be releasing plushies of the main characters, Scott Pilgrim and Ramona Flowers. Thankfully modeled on their comic incarnations, the figures will be 8 inches tall and stuffed with 100% pure rock. Scott is wearing his self-indulgent shirt, while Ramona has her goggles and skates.
This is just one more part of a brilliant campaign to get both nerds and non-nerds to see this film. Already announced are the asssuredly awesome (and possibly 2 disk) soundtrack (featuring Beck writing Sex Bob-Ombs music. And Metric. And Prodigy, if we're to judge by that second trailer) and the retro-radical video game (which for whatever reason is PS3 download exclusive, at least at first)to be scored by Anamanaguchi.
So yeah. We have a lot of stuff to look forward to.