Blightyvision: "Jekyll"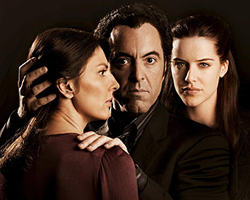 Created by Steven Moffat
Starring James Nesbitt and Gina Bellman
Dr. Tom Jackman wakes up one morning to discover that he has a human ear in one hand and no memory of the night before.  He suspects something's wrong … and, thanks to a carefully-rigged video camera, discovers that he has grown a second, childish, violent personality that calls him "Daddy" and delights in provoking him.  There's only one solution to this problem, of course.
That's right: a mental time share.  After all, what could possibly go wrong?
Steven Moffat's "Jekyll" picks up in medias res in the story of a modern-day Jekyll and Hyde coping with their rather unique circumstances.  Tom has a wife and two children and a fairly calm life; Billy (Tom's counterpart — he names himself after one of his victims) sleeps around and drinks enough to give Tom hangovers and has no idea what sort of life "Daddy" has.  The two communicate via dictaphone, but other than that, their only interaction comes in various passive-aggressive attempts at making each other's lives difficult.
Of course, such an understanding can't hold up, and before long Billy learns two important things: one, he is being tracked by two separate groups who believe him to be a literal modern-day Jekyll and Hyde; and two, Daddy has a family.
What happens after that, though, is straight out of the minds of Carl Jung and Robert Bly.  Rather than taking the obvious violent horror-story approach to the classic tale, Moffat (the writer of "Coupling" and current "Doctor Who" show-header) goes a far more psychological route, exploring Jung's "shadow" and Bly's "Wild Man" archetypes.  Have I lost you yet?  To put it simply, this is at its core a textbook character study that will blow the mind of anyone who's done any sort of research in those areas.
Which is not to say that this show will only appeal to people with interest in that field.  Moffat is, as usual, a master of embroidering dark themes with clever dialogue.  The writing is some of his absolute best, likely because he has six episodes to tell his story rather than one or two.  The background characters are well-rounded, even down to one who only sees about four minutes of screen time in the final episode and is used mainly as a gag.  The plot is solid with a few threads of mindscrew, pulling you along but not distracting you from what's going on in front of you at any given point.
James Nesbitt as both the frazzled Tom Jackman and the psychopathic Billy Hyde carries this show amazingly, playing both sides of the character as believable individuals.  His portrayal of Billy walks that dangerous line where madness could spill over into farce, but he keeps a firm grip on the character, managing to deliver quotable one-liners ("I'm a psychopath with super powers, and you're my girl!") without ever becoming laughable.
Giving me more proof that graduates of BBC comedy are the best at drama, Gina Bellman (the flighty Jane in "Coupling") turns in an amazing dramatic performance as Mrs. Jackman — strong both in personality and in solidity of character development.  Rather than coming across as a "tough girl," she plays the role with a sort of restrained territorial aggression.  The chemistries with Tom, and then with Billy, are worlds apart but both equally believable.
Also present is Paterson Joseph as Jackman's nemesis Benjamin, somewhat incognito due to a shaved head and an American accent.  Sadly, as much as I love and admire the man, the latter doesn't sit very comfortably in the ears of a Colonial.  Nonetheless, for his limited time onscreen, he's not so much a likeable character as a love-to-hateable character; a bit stereotypically world-view-of-American, but not enough to degrade or destroy the character.
My only true issue with the show lies in the ending — not the true plot resolution, but the final scene itself.  Whether it's meant to be a gateway to a second series, an open invitation for fridge horror, or just one last scream before it fades to black, it feels awkward and tacked on.  The point of it is somewhat understandable in terms of the plot; the execution, unfortunately, is a bit fail, and blunts the tail end of what was otherwise a fantastic finale.
If you're a horror fan, you need this in your life.  If you're a fan of Moffat's work, you need this in your life.  If you're easily turned off by dark imagery and disturbing plot points and large amounts of blood and violence — okay, in that case maybe this isn't for you.  But if you've got the head and stomach for it, it's a beautiful wild ride.
"Jekyll" is available in its entirety on DVD.  If you're a William & Mary student, you could so totally write a paper on it.