The Wibbly-Wobbly Timey-Wimey Watchlist: "Top Gear" Season 15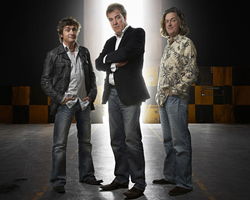 Pyros and petrolheads take heart. Despite the typical tween-seasons rumors that the show had finally gone too far and gotten itself cancelled, there is a fifteenth series of "Top Gear" on the way. And for 2010, you can look forward to new challenges, new reviews … and a new Reasonably-Priced Car.
That's right. After seven seasons of commendable service, the Chevrolet Lacetti is being retired in favor of a new (and, naturally, reasonably-priced) Chevy Cruze. This means a clean leaderboard for the show's celebrity guests. As for the Lacetti itself, it was given an heroic sendoff, parked under one of the chimneys being demolished at Lafarge Cement's Northfleet Works and then carted off by truck to a place of honor on the "Top Gear" set. The BBC has confirmed, since Richard Hammond was spotted in attendance, that the demolition will be featured in the show this summer.
What else can we expect? Well, after a particularly magnificent video was leaked early last month, as our regular readers may recall, the Top Gear blog has released official photos of what is being termed "Top Gear Motorhome Action." No more has been said, so as not to spoil the final segment, but it will likely have to be seen to be believed in the first place.
It's also been reported that, during one of their challenges, James May maliciously and deliberately caused the eruption of the Eyjafjallajoekull volcano. That said, there is apparently a grain of truth to the story: the lads were spotted in Iceland driving an SUV with water-cooled wheels over hot lava.
So when can we see all this new madness? According to the back of Top Gear Magazine, the new series kicks off in a little over two weeks, on Sunday the 27th on BBC2.  No word yet on what this first episode will bring, but I'm laying money on there being at least two minor explosions.
"Top Gear" returns this month with seven new episodes, heralded by the First Stig of Summer — caught on camera here at Animazement.
Posted on June 9, 2010 at 00:38 by
Kara Dennison
·
Permalink
In:
Columns
,
Television: British and Canadian
· Tagged with:
bbc2
,
cars
,
challenges
,
james may
,
jeremy clarkson
,
powerrrrr
,
richard hammond
,
stig
,
Top Gear