David Tennant, Christopher Mintz-Plasse joining Fright Night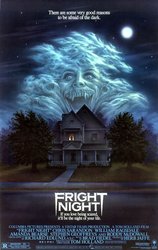 The Doctor and Red Mist appear to be teaming up.
According to an exclusive at THR's Heat Vision Blog, both David Tennant and Christopher Mintz-Plasse have signed on to star in the Fright Night remake. They're joining Anton Yelchin (Star Trek), Colin Farrell and Toni Collette (The United States of Tara) in the story of a teen (Yelchin) convinced that his neighbor (Farrell) is a vampire.
Tennant (Doctor Who, Harry Potter and the Goblet of Fire) will be playing Peter Vincent (perhaps a nod to a certain famed horror actor?), "a Las Vegas magician whose show revolves around horror-movie imagery" who "claims to be a vampire expert, but when the teen turns to him for assistance, he's less than helpful." Mintz-Plasse (Kick-Ass, Superbad) will be playing Evil Ed, a friend of Yelchin who becomes frustrated with him and ends up joining the vampire's coven.
The film to be directed by Craig Gillespie (Lars and the Real Girl), will be released through Disney in conjunction with Dreamworks.
Related Posts: Colin Farrell to join Fright Night in lead vampire role