Comic Non-Sans: "The Ten Doctors"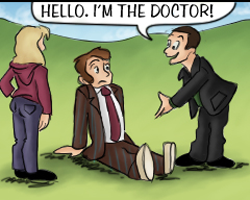 Talking of stigma, as we were last week, there's long been an issue with the concept of fan comics.  Not in Japan, mind; go on eBay and see what exists by way of doujinshi.  (Actually, don't.)  While they have a reputation — which you'll have learned if you actually looked some up — they are much more widely accepted as a subgenre in Japan.  Western fans seem to have a fixation on canonicity in their fandom that makes much beyond clearly-stated fanfic something of an affront.  There have been a handful of break-outs that managed to win even die-hard fans over even so.
One of those — the big news among "Doctor Who" fans in the last year or two — has been The Ten Doctors, written and drawn by Rich Morris.
Let's all start out on the same page, if we could.  The boys of Big Finish, the high-flyers of questionable canonicity in "Doctor Who," have stated that multiple-Doctor stories never turn out as epic as you think they will.  And really, they do have something of a point (despite my love of the short'n'sweet gem that was "Time Crash").  It's murder enough flying in the face of us Whovians, a fandom that will bring out the pitchforks if the wrong script editor even glances in the general direction of Wales.  But then to go and do what even seasoned writers avoid?  That's gutsy.
Fortunately, while "gutsy" does not always mean "quality," it does here.  Morris really knows the series inside and out, and rather than relying on flailing said knowledge around, he works it easily into his running storyline.
Said storyline?  While enjoying a quiet Lonely God brood, the Tenth Doctor finds himself confronted with all his former selves.  Well … all but one.  Always the troublemaker, the Eighth Doctor seems to have slipped through the cracks, causing (in a nice twist of art imitating life) an unclear area in the Doctor's own history.  The Doctors gather their companions, split up in their various TARDISes, and take off to find out the source of the problem — naturally, meeting pretty much all their old friends and foes along the way.
While taking several serious turns, the comic does not take itself so seriously that it becomes afraid of playing "spot the character" or "let's go there."  It toys with various fan theories, never claiming to be right, but always keeping it about being fun.  More than anything, it's a treat, in parts almost becoming a guessing game of who will show up next or how characters will interact when they finally meet.
Though I will say the art is what drew me to it in the first place.  Morris has a real eye for the characters, going less for the awkward realism many of the professional "Doctor Who" comics suffer from in favor of a more comfortable cartoon style that's just left of caricature.  You can tell who everyone is immediately upon seeing them, especially with the Doctors.  And yes, the comics are entirely pencil-sketched and -lettered, but (unlike some other webcomics out there), it can actually survive without being inked.
"The Ten Doctors" finished a little over a year ago, but Morris hasn't stopped.  As soon as it ended, he kicked off with Forever Janette (a crossover with "Forever Knight") and followed with the currently-running Stalker of Norfolk (a straight-up Third Doctor story).  Is it too much to hope that someday I'll be able to point people to his latest work by directing them to buy the latest Doctor Who Magazine?
"The Ten Doctors" and "Forever Janette" are available in the site's archives in their entirities, and "Stalker of Norfolk" updates arbitrarily.  Also check out Morris's FVLMINATA comics for Roman hijinks.