"Torchwood" returns in print … and onscreen
Right on the heels of having to tell our readers that we have no "Torchwood" news … we have "Torchwood" news.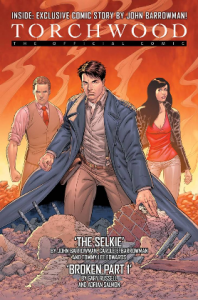 Last week, it was announced that Titan Publishing will be printing a new line of "Torchwood" comics starting in August.  Each issue will contain two stories and be released with two different covers — one photographic, and one by American comic book artist Ian Churchill.  The names behind the first two stories will be quite familiar to fans: the first part of the five-part series "Broken" is written by former Big Finish big-man and Doctor Who expert Gary Russell, and "Captain Jack and the Selkie" is written by Captain Jack himself, John Barrowman, with his sister Carol E. Barrowman.  Collectors heading to San Diego Comic Con this year will also have a chance to nab yet another version of the first issue, featuring alternate art from Churchill.
And if that's still not enough Captain Jack for you, rest easy: he will be back on the small screen next year.
A press release from Starz today states that there will be a new "Torchwood" television series starting in 2011.  The ten-episode series will be a co-production of Starz and BBC Cymru Wales, simulcast exclusively on both channels next summer, and BBC Worldwide will be handling international distribution.  Russell T. Davies will be heading up the series once again, and he and BBC Worldwide's Julie Gardner will be returning as executive producers.
Of course, the major question for those of us who saw last year's "Children of Earth" is … what now?  Treading cautiously for the unspoiled, it's safe to say that we were left in a position where it seemed continuing the show in its previous format would be difficult.  But Davies has apparently approached Starz with "a compelling vision for the evolution of the 'Torchwood' saga."  The new series, picking up (we're left to assume) where "Children of Earth" left off, will see the return of Barrowman, as well as Eve Myles as Gwen.  But new characters will also be joining the team, reflecting the more "international" feel of the show.
Does this mean the Cardiff branch will be leaving the Hub?  Hard to tell, but with the Beeb's inability to keep any spoilers from the Whoniverse under their hat for very long, we'll likely get all the news direct from the horse's mouth as soon as filming commences.