R.I.P. Rue McClanahan: You Will Rue the Day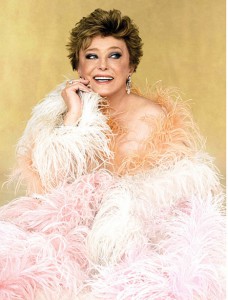 When I was fifteen, my mother and I went to Disney World. As a fifteen year-old, I wasn't really impressed by much (my mother on the other hand was taking pictures of every palm tree she saw in Florida) until the studio tour of M.G.M. took us to the "Golden Girls" house. Seeing the exterior, I became star struck and tried to get my mother's attention away from the palm tree she was snapping at to capture the best thing to happen to my summer vacation.
Reading the news today, I became dumbstruck upon discovering Rue McClanahan (known best as TV's Blanche Devereaux) had passed on and that the nation isn't taking Friday off in memorial this week because of it.
You'll be hard pressed to find any mention of Rue's death without glowing fondness for her or for "Golden Girls" (or a short biography that I feel would be redundant to put here). The cast did such a good job of convincing a nation that fears getting older that it was okay to age but forgot that it didn't mean you got to cheat death.
What has Rue's passing has hitting me harder than the proceeding deaths of Estelle Getty and Bea Arthur was that she played Blanche Devereaux – a character spun out of fire and passion. Dorothy and Sophia were tough and wise, and Rose was young at heart, but Blanche was always enjoying the prime of her life.
Since we don't get to have a second Memorial Day this week, I make the call that on today, Friday, June 4, 2010, you will Rue the Day. Find a moment today to make it known just how amazing you are with the easy confidence Rue infused into Blanche. For example, just let it be known that you are amazing in bed, truth be damned. Life is too short to not lie about certain subjects. Lie enough and you'll have enough experience that you won't have to lie anymore – you'll Rue the Day you ever thought differently.
"Your initials are B.E.D.?"