Blightyvision: "Slings and Arrows" Series 1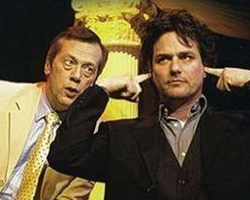 Created by Susan Coyne, Bob Martin, and Mark McKinney
Starring Paul Gross, Martha Burns, and Stephen Ouimette
Madness, infidelity, swordfights, and a ghost who cannot rest until his final wish is fulfilled — that's what the New Burbage Theatre Festival has to offer in their latest season.
Oh, and they might be putting on Hamlet, as well.
The 2003 Canadian TV series "Slings and Arrows" is an inside look at a troubled fictional Shakespeare festival and its attempt to get a show out the door.  How troubled?  Their manager wants to turn the town into a theme park.  Their Hamlet is a Hollywood action star.  Their Ophelia can't act.  Their artistic director, Oliver Welles, was run over by a meat truck.  And his replacement, Geoffrey Tennant, went mad and ran out in the middle of Oliver's previous production of Hamlet — in which Geoffrey himself played the title role — seven years prior.  The fact that Oliver is now haunting Geoffrey isn't making his attempts to prove his sanity any easier.
"Slings" boasts a large ensemble cast and multiple plots woven together into six 45-minute episodes.  That kind of balancing act can spell danger for a show, especially one that follows the British tradition of very short self-contained seasons.  But each piece of the story is addressed, given plenty of attention, and tied up satisfactorily by the end.  With actress Coyne, comedian Martin, and "Kids in the Hall"/SNL alum McKinney at the helm, things flow smoothly, and the dialogue is both intelligent and infinitely quotable.
"Due South" star Paul Gross (himself a former Hamlet) plays the spastic Geoffrey perfectly: a director we all wish we could be, or work with, at some point in our lives.  He and Ouimette as the snarky spirit Oliver have fantastic chemistry together, and just enough of it; the ghostly presence isn't a gimmick that holds the show together, but just one of the multiple aspects of the story.
Unexpected pleasant surprises in the show come in the form of Don McKellar as the Artsy-with-a-Capital-A Darren Nichols and Luke Kirby as Jack Crew (an obvious one-off of Keanu Reeves, who starred in a Canadian production of Hamlet in 1995).  Hidden comfortably in the background are Frank (Michael Polley) and Cyril (Graham Harley), two older gay gentlemen who offer running commentary that's some of the best material in the show.  McKinney steps into the role of Richard, the wussy manager letting himself be coerced into turning the festival into a giant moneymaking scheme.
If you've ever in your life been involved in the performing arts — as cast, crew, or management — something in this show will ring true.  Odds are you've worked with a Darren or had to deal with a Richard.  And while a decent knowledge of Shakespeare certainly helps, you don't necessarily need it.  The characters sprinkle quotes into everyday conversation with a believable familiarity, which is fine in and of itself even if you can't necessarily place each one.
A big part of the appeal of "Slings" is that it has that one thing that, on its own, can make a show truly great: the people behind it love what they're doing.  The majority of the cast has worked with the Stratford Shakespeare Festival (the inspiration for its fictional New Burbage counterpart), or have long-standing experience staging the works of Shakespeare in some form.  It's undoubtedly a labor of love, and even the most deplorable characters are interesting and well-developed.  It's no wonder the show came back for two more series, each focusing on the horrors of producing yet another of the Bard's famous works.
"Slings and Arrows" Series 1 is available on DVD.  Pick it up today and see the first Tennant to play Hamlet.