The Wibbly-Wobbly Timey-Wimey Watchlist: "Doctor Who" Universe News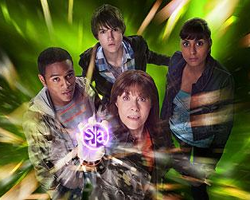 "Doctor Who" has spawned more spin-offs in recent years than "Happy Days," all of them with impressive viewerships. Yes, even That One. You know the one I mean. Don't pretend you don't.
I'll be giving you some more "Doctor Who" talk later in preparation for the season finale.  In the meantime, there's plenty to say about its three kids.
"The Sarah Jane Adventures" has been amazing about backwards-referencing, perhaps even more than "Doctor Who" itself.  Last series we saw not only the permanent return of K-9 Mk. IV, but also a cameo by Nick Courtney as Brigadier Lethbridge-Stewart.  This series, Katy Manning returns as classic companion Jo Grant — and she'll be accompanied by Eleventh Doctor Matt Smith in a script written by good ol' Russell T. Davies.  In the same episode, we've also been promised vulture-monsters and the show's first off-world jaunt.  Production started in March, and a fifth series for 2011 has already been commissioned.
Not surprisingly after the bomb dropped in last year's "Children of Earth," "Torchwood" news has been both hotly anticipated and annoyingly scant.  Nearly a year ago, RTD said first one thing and then another concerning the show's future.  For all anyone can tell, if there is a fourth series coming, it's on hold indefinitely.  However, you can always get your fix by nabbing the latest Torchwood Magazine, which features a comic written by Gareth David-Lloyd … that's pretty much the extent of their new material.
And then there's "K-9" … yep, that dreaded shudder-inducing for-even-littler-kids spinoff from Australia.  Which … guys?  Is actually not the horror we've all been building up for.  The big mitigating factor is that K-9 (which has been confirmed by the creators as being a regeneration of Mk. I, last seen with Leela) is voiced by John Leeson, and props were given to the original in the first episode.  Whatever you think of it, it's making its way to the UK's Channel 5 this fall.  At the moment, it is continuing its 26-episode run in Australia on Network Ten, and in the UK and Ireland on Disney XD.
According to the Beeb, the new series of "The Sarah Jane Adventures" will be aired on Soon, which seems to be a very popular release date for BBC shows.