Get Your Hands on Blackadder's Codpiece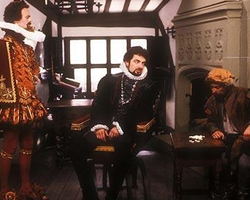 Got a little extra cash lying around? For an estimated £1,000, you could be the proud owner of Edmund Blackadder's codpiece.
Cameo Fine Art Auctioneers announced today that the "iconic" item worn by Rowan Atkinson in "Blackadder II" will be up for grabs during the Angels Film Costume Auction this Sunday.  If you don't fancy it, you could always put in a bid on one worn by Hugh Laurie, or you could have a go at getting Nursie's dress instead.
More than 200 costume pieces from TV and film will be on the block this weekend.  Not surprisingly, this particular accessory has raised a few eyebrows.  Collectors from all over the UK have expressed interest, as well as prospective bidders from the US and Australia.  Cameo saleroom manager Glenn Norcliffe commented that as Blackadder was "massive," they expect this codpiece to go "through the roof."
His words, not mine.
The Cameo website has a complete listing of all the items up for auction on Sunday.  It really is an Anglophile's window-shopping dream: check out Items 143 (a leather jacket from series 1 of "Ashes to Ashes"), 149 (Peter Davison's waistcoat from "Doctor Who: Planet of Fire"), and 175 (some of Jeeves's tweeds from "Jeeves & Wooster"), just to name three.  From the looks of this list, there are going to be some very happy collectors out there come Monday morning.