Comic Non-Sans: The Laugh-Out-Loud Cats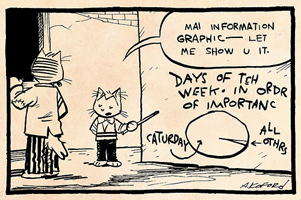 It seems like LOLcats have been a part of the Interweb consciousness for ages now.  But if one is to believe Adam Koford, they've existed for nearly a century — in the form of comic strips drawn by his great-grandfather.
That's the concept behind The Laugh-Out-Loud Cats, which began in 2007 (or 1912, depending on whom you choose to believe).  According to the artist, the original comic by Aloysius "Gorilla" Koford ran for only a year until an unfortunate run-in with newspaper magnate William Randolph Hearst.  The Hobotopia blog is his great-grandson's attempt to share the cartoonist's work with a new generation.
In actuality, Adam Koford was inspired by the 700 Hoboes Project, a massive attempt to create portraits corresponding to all the "historical" hobo names listed in "Daily Show" correspondent John Hodgman's book The Areas of My Expertise.  The single-panel comics follow the stogie-smoking Meowlin Q. Kitteh and his kitten pal, Pip, as they ramble through the world dodging the authorities and finding a good meal that haz a flavr.
Yes … as the comic's title indicates, the dialogue is delivered entirely in LOLspeak.
Even without the Internet meme connection, The Laugh-Out-Loud Cats has appeal as an homage to early 20th century comic strips.  Adam Koford has done what few manage anymore in creating a style reminiscent of turn-of-the-century cartooning.  The strips are even presented on faded "vintage paper," and looks even better for it.  And the meeting of the classic style with the digital age works far better than you might think.  Aside from the obvious meme carrying through it, you can expect to see references to classic films, sci-fi flicks, and yes, even a few things we here at Geeking Out About … erm … geek out about.
The Hobotopia blog features new Laugh-Out-Loud Cats comics on most days of the week … though, like me, you might prefer to wait and read all the week's updates at once on Caturday.