The Wibbly-Wobbly Timey-Wimey Watchlist: Terry Pratchett's Going Postal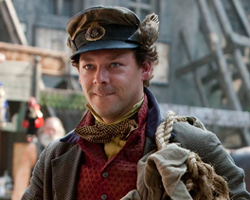 The Mob are at it again, and once again, it's looking good.
The team that brought us small-screen adaptations of Hogfather and Colour of Magic/Light Fantastic are back this month with a new Discworld miniseries for Sky1.  This go 'round, it's Going Postal, based on the 33rd novel in Terry Pratchett's popular fantasy series, and the first book to feature now-regular Discworld character Moist von Lipwig.
In Going Postal, the unfortunately-named confidence trickster is offered a new lease on life after being sorta-executed at the hands of Ankh-Morpork's Patrician.  His new role?  Head of the woefully neglected city post office.  But the job comes with far more problems than simply whipping the old institution (and equally old employees) into shape.  The regular post is receiving direct competition from the "clacks," a primitive Discworld version of the Internet, and Lipwig takes it upon himself to fly in the face of modern technology and restore the post office to its former glory.  Oh, and to win the heart of the prickly and equally-unfortunately-named Adora Belle Dearheart.
As usual, their casting is inspired.  Richard Coyle (best known as "Coupling" favorite Jeff Murdoch) stars as the clever-yet-hapless Moist von Lipwig, with David Suchet (TV's Hercule Poirot) as the villainous Reacher Gilt.  Veteran actor Charles Dance takes over the role of Patrician Havelock Vetinari, and Andrew Sachs (Manuel of "Fawlty Towers") appears as aged Junior Postman Groat.
If the previous miniseries are any indication, Going Postal should be another impressively faithful adaptation, provided the screenplay has been "mucked about with by Terry Pratchett" after the fact as the ones before it have.  Just so long as Lipwig is rockin' the gold suit, I'm happy.
Going Postal is being advertised with the incredibly helpful airdate of "soon," but look for it to show on Sky1 HD sometime before the end of the month (we hope).

Posted on May 12, 2010 at 00:53 by
Kara Dennison
·
Permalink
In:
Columns
,
Television: British and Canadian
· Tagged with:
adaptation
,
Andrew Sachs
,
based on a book
,
Charles Dance
,
con man
,
David Suchet
,
Going Postal
,
Richard Coyle
,
Sky 1
,
Terry Pratchett