Comic Non-Sans: Super Art Fight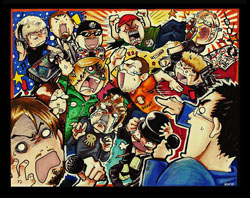 Anyone trying to explain Super Art Fight to someone who's never witnessed it firsthand may find themselves at a loss for words. Part improv, part sketch-a-thon, all wrapped up with a pro-wrestling mentality — at its core it is, quite literally, performance art.
The concept for Super Art Fight sprang from Katsucon's Iron Artist event, where two pairs of artists tried to beat the clock drawing massive sketches based on a single topic. Commentators were added to keep things lively and over time, the artists began putting their own spin on the competition, changing allegiances mid-round or defacing competitors' pictures.
Super Art Fight as it stands now was created by webcomickers Jamie "Angry Zen Master" Noguchi, Ross Nover, Nick "Ghostfreehood" Borkowicz, and Marty "F'n" Day. The regular roster is filled with webcomic talent, including Garth Graham, Chris Impink, Bryan Prindiville, and Jamie Baldwin, with past guest artists such as Steve Bennett and Jo Chen. Nover and Day team up to provide color commentary throughout the matches, with DJ Sheephead keeping the music going and "Action" Jackson Gill presiding as lead referee.
What makes up an art fight, then? Two (or occasionally four) artists arm themselves with red and black markers and take to a giant blank board. The artists are given a pair of topics — say, robots vs. pirates — and thirty minutes to fill the board with their depiction of a battle scene. But that alone would be too easy. Every five minutes an audience member spins the Wheel of Death: a massive slot machine from hell filled with prompts that the artists must then work into their drawings. The result is a crazy, busy work of art that is auctioned off in pieces afterwards. Also, a massive Sharpie high.
The group has appeared at rock concerts and conventions all along the East Coast, but a true Art Fight is an all-night event. Recent fights have packed Baltimore's Ottobar with fans old and new, featuring multiple bouts divided up by performances from bands such as Peelander Z. And there are bigger plans forming with their second anniversary approaching, including a free show in July … so Metro Gallery patrons, prepare to be rocked.
Check out SuperArtFight.com for their battle schedule, current rankings, and photos and video from past shows.  There's an approved "bootleg" of their ROFLcon show now available, if you'd like to try out the unadulterated real thing.